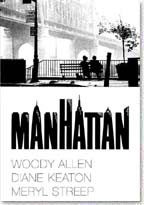 Isaac Davis (Woody Allen) is writing a book about his love for New York City. He is a twice-divorced, 42-year-old comedy writer for television dealing with the women in his life who quits his unfulfilling job. He is dating Tracy (Mariel Hemingway), a 17-year-old girl attending the Dalton School. His best friend, Yale Pollack (Michael Murphy), married to Emily (Anne Byrne), is having an affair with Mary Wilkie (Diane Keaton).
Mary's ex-husband and former teacher, Jeremiah (Wallace Shawn), also appears. Isaac's ex-wife Jill Davis (Meryl Streep) is writing a confessional book about their marriage. Jill has also since come out of the closet as a lesbian and lives with her female partner Connie (Karen Ludwig).
When Isaac meets Mary, her cultural snobbery rubs him the wrong way. Isaac runs into her again at an Equal Rights Amendment fund-raising event at the Museum of Modern Art and accompanies her on a cab ride home. They chat until sunrise in a sequence that culminates in the iconic shot of the Queensboro Bridge.
In spite of a growing attraction to Mary, Isaac continues his relationship with Tracy but emphasizes that theirs cannot be a serious relationship and encourages her to go to London to study acting. In another iconic scene, at Tracy's request, they go on a carriage ride through Central Park.
The opening montage alone–set to Gershwin's "Rhapsody in Blue"–paints a delightfully romantic, pulsing portrait of Allen's New York. Cinematographer Gordon Willis's sumptuous black-and-white was shamefully overlooked by the Academy. Visually, the film is stunning, with a palette of tones that reflect the story's inherent warmth as well as its moments of stark confrontation.
Allen has worked in black-and-white several times, but this is the most successful effort. And, as much as he seems to decry it, Woody once again creates a sentimental–but never mawkish–ode to love, human frailties, and the Big Apple. Yes, that's Meryl Streep as the other woman. If a classic film is one that stands the test of time, then "Manhattan" is holding up exceptionally well.
Director: Woody Allen
Year of Release: 1979

Character to watch: Woody Allen as Isaac Davis.
Journal your answers to the following questions after you watch the movie.
How does this particular character's journey compare with yours?
Did the character develop certain characteristics during the movie that you have or that you would like to have? If so, what are those characteristics?
What obstacles did this character face? What was his or her biggest challenge?
What would you have done differently if you had been in the same position as the character?
Is this character the type of person you would be friends with? Why or why not?