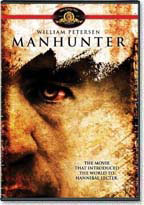 Will Graham (William Petersen) is a former FBI criminal profiler who has retired because of a breakdown after being attacked by a cannibalistic serial killer, Dr. Hannibal Lecktor (Brian Cox). Graham is approached at his Florida home by his former FBI superior Jack Crawford (Dennis Farina), who is seeking help with a new serial killer case.
Promising his wife (Kim Greist) that he will do nothing more than examine evidence and not risk physical harm, Graham agrees to visit the most recent crime scene in Atlanta, where he tries to enter the mindset of the killer, now dubbed the "Tooth Fairy" by the police for the bite-marks left on his victims.
Having found the killer's fingerprints, Graham meets with Crawford. They are accosted by tabloid journalist Freddie Lounds (Stephen Lang), with whom Graham has a bitter history. Lounds' paper had run photographs of Graham taken secretly while he was hospitalized. Graham pays a visit to Lecktor, a former psychiatrist, in his cell and asks for his insight into the killer's motivations. After a tense conversation, Lecktor agrees to look at the case file. Lecktor later contrives to obtain Graham's home address by deceit.
Graham travels to the first crime scene in Birmingham, Alabama, where he is contacted by Crawford, who tells him of Lounds' tabloid story on the case. Crawford also patches Graham through to Frederick Chilton (Benjamin Hendrickson), Lecktor's warden, who has found a note in Lecktor's personal effects.
Reading it, they realize it is from the Tooth Fairy, expressing admiration for Lecktor—and an interest in Graham. Crawford brings Graham to the FBI Academy at Quantico, where a missing section of the note is analyzed to determine what Lecktor has removed. It is found to be an instruction to communicate through the personals section of the National Tattler, Lounds' newspaper.
The FBI intended to plant a fake advertisement to replace Lecktor's, but they realize that without the proper book code the Tooth Fairy will know it is fake. So they let the advertisement run as it is, and Graham organizes an interview with Lounds, during which he gives a false and derogatory profile of the Tooth Fairy to incite him.
After a sting operation fails to catch the killer, Lounds is kidnapped by the Tooth Fairy (Tom Noonan). Waking in the killer's home, he is shown a slideshow of William Blake's The Great Red Dragon paintings, along with the Tooth Fairy's past victims and slides of a family the killer identifies as his next targets. Lounds is forced to tape-record a statement before being set on fire in a wheelchair and killed, his flaming body rolled into the parking garage of the National Tattler as a warning.
Director: Michael Mann
Year of Release: 1986

Character to watch: William Petersen as Will Graham.
Journal your answers to the following questions after you watch the movie.
How does this particular character's journey compare with yours?
Did the character develop certain characteristics during the movie that you have or that you would like to have? If so, what are those characteristics?
What obstacles did this character face? What was his or her biggest challenge?
What would you have done differently if you had been in the same position as the character?
Is this character the type of person you would be friends with? Why or why not?