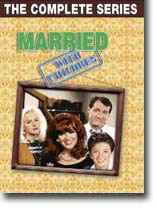 When Married… with Children debuted on Fox TV on April 5, 1987, the grungy sitcom became an instant flagship for Rupert Murdoch's upstart network. Married… with Children was meant ro be a trashier, raunchier, and far more cynical view of the American nuclear family. But it turned out the series actually fell into other caustic-domestic entertainment traditions.The jokes were savage, key relationships were marked by ennui and indifference, and the Bundy family name couldn't help but make one think of America's most notorious, real-life serial killer at the time. Yet the show had a hint of Golden Age Hollywood gloss, a retro-screwball feel that one could detect in the snappy verbal warfare between husband Al Bundy (Ed O'Neill) and wife Peggy (Katey Sagal). The characters, and the show, eschewed sentimentality, which certainly opened the floodgates to comic cynicism but also kept a door ajar for moments of genuine sweetness.
A decade later, however, by the time Fox cancelled the increasingly expensive series, Married… with Children's first-season tone would be considerably different, replaced by a stronger reliance on running jokes and character stereotypes, particularly concerning Bundy children Kelly (Christina Applegate) and Bud (David Faustino).

Character to watch: Ed O'Neill as Al Bundy
Journal your answers to the following questions after you watch the series.
How does this particular character's journey compare with yours?
Did the character develop certain characteristics during the movie that you have or that you would like to have? If so, what are those characteristics?
What obstacles did this character face? What was his or her biggest challenge?
What would you have done differently if you had been in the same position as the character?
Is this character the type of person you would be friends with? Why or why not?