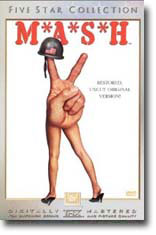 The setting was Korea, 1950. They were a MASH (Mobile Army Surgical Hospital) unit stationed three miles from the front. Incoming helicopters full of wounded brought the horrors of war to them daily and sometimes bullets flew right outside the operating room door. Occasional hilarity and constant hijinks were all that kept them sane.
Loosely based on real-life MASH unit 8055, life at the 4077 revolved around the day-to-day routines of Captain "Hawkeye" Pierce, Captain "Trapper" McIntyre, Lieutenant Colonel Henry Blake, Major Margaret Houlihan, Major Franklin Burns and Corporal "Radar" O'Reilly. Through these characters, viewers traveled beyond the long hours and the horrors of the operating room to a place where friendships were forged, laughter was found and drinks were served.After a first season in which M*A*S*H barely rated among television's top fifty shows, the show received a boost in its second season when CBS switched their time slot to Saturday nights right after "All in the Family." Knowing a lot of new people would be tuning in to the second season, creator/writer Larry Gelbart reveals, "We wrote the first episode as a sort of second pilot to introduce all the new viewers to the characters." Almost immediately after the second season began, the show became a hit-and the actors became household names.
Probably no cinematic comedy produced by Hollywood in the last half of the twentieth century is as irreverent, disdainful of authority, critical of war and its effects, and, incidentally, as funny as "M*A*S*H", that 1970 comedic masterpiece starring Donald Sutherland, Elliott Gould, Tom Skerritt, Gary Burghoff, and Sally Kellerman; written by Ring Lardner, Jr.; and directed by Robert Altman, in his directorial debut.
"M*A*S*H" is actually a very difficult film to review for a variety of reasons. First and foremost, it's darned near impossible to provide an adequate synopsis for readers who've never seen the movie. Because, unlike most modern films that contain a linear story line, an easy-to-follow plot, and well developed characters that one can either root for or vilify with ease, "M*A*S*H" is a film that can only be described as a series of loosely joined comic vignettes, featuring a set of very true-to-life characters that are all BOTH very likeable and flawed.

Character to watch: Alan Alda as Captain Benjamin Franklin Pierce.
Journal your answers to the following questions after you watch the series.
How does this particular character's journey compare with yours?
Did the character develop certain characteristics during the movie that you have or that you would like to have? If so, what are those characteristics?
What obstacles did this character face? What was his or her biggest challenge?
What would you have done differently if you had been in the same position as the character?
Is this character the type of person you would be friends with? Why or why not?