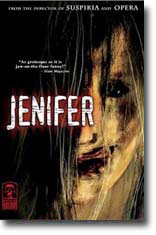 Leave it to Dario Argento (Suspiria) to cook up a truly stomach-flipping installment in Showtime's Masters of Horror series. Argento's hour-long Jenifer has an uncluttered through-line that combines a relentlessly destructive film noir plot with zombie attitude. Steven Weber plays a cop who kills a man about to harm a disfigured woman named Jenifer.
Weber finds himself strangely protective of the girl, who incidentally has enough sexual appetite to tempt him away from everything sane and holy. Unfortunately, she has other appetites as well, which spells trouble for the odd child (or housecat) who might be taken as a snack.
Weber's downward spiral is predictable enough, but there's something in almost every scene that makes you shiver–either overtly (Jenifer chomping down on entrails) or indirectly (the way trees ripple as a car moves into the forest). Jenifer is played by Carrie Anne Fleming, wearing a prosthetic horror mask and flimsy negligee, an unsettling combination of repulsive/sexy that Argento exploits to the maximum.
This film was part of Masters of Horror, a television series that was an informal social group of international film writers and directors specializing in horror movies and an American television series created by director Mick Garris for the Showtime cable network. The rirst episode aired October 28, 2005 and the final episode aired February 2, 2007.
The trim script is by Steven Weber, from a short story by Bruce Jones; the excellent music is by Claudio Simonetti, whose ensemble Goblin did the music for other Argento films and the original Dawn of the Dead.
Based on an old Eerie comic illustrated by Bernie Wrightson, this is an eerie tale that plays against a number of emotions. The story starts with a police officer who sees a man try to kill a woman. He shoots the man before he can cause harm. The rescued woman is Jenifer. She has a disfigured face, a killer body, and seems unable to talk. But no sooner is the case open than the detective begins to become obsessed with Jenifer. He visits her at an asylum and decides she needs compassion and friendship so he brings her home. This causes new trouble.
With Jenifer in the house things quickly fall apart for the detective's family life. Then he discovers that Jenifer has a very active libido and has targeted him. Then more of Jenifer's nature becomes apparent as she eats the family dog. Things continue to go downhill as the detective is both repulsed by Jenifer's behavior and enslaved to her passion. The downward spiral continues until the inevitable ending.
This story is dark and disturbing. It is missing the cuteness that ruined some of the others in the series. The script is true to the original except the detective is given a happier home life so that he call fall even further during the story. There is a large amount of nudity and sexuality in this film. Had this been a theatrical release there would probably have been talk of an NC-17 rating for a couple of the scenes. All in all this is a very good horror film that gets to the viewer on multiple levels.
Director: Dario Argento
Year of Release: 2006

Character to watch: Steven Weber Frank Spivey.
Journal your answers to the following questions after you watch the movie.
How does this particular character's journey compare with yours?
Did the character develop certain characteristics during the movie that you have or that you would like to have? If so, what are those characteristics?
What obstacles did this character face? What was his or her biggest challenge?
What would you have done differently if you had been in the same position as the character?
Is this character the type of person you would be friends with? Why or why not?