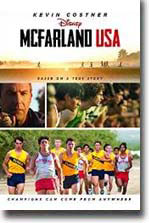 A struggling coach and teacher (Kevin Costner) who has been had to move around for different incidents in his career finally comes to one of the poorest cities in America – McFarland, California. There he discovers buried potential among several high school boys and slowly turns them into championship runners and brings them closer than even he could ever imagine.
Costner is simply outstanding in this. Yes, he is still playing Kevin Costner in every movie he is in. However, this acting job is so approachable and likable that it reminds us of how approachable and likable Costner himself can be.
Costner is supported well in this by Maria Bellos, but she is not given nearly as much room to play here as a secondary character. Surprisingly, the main boy in this movie, Ramiro Rodriguez, is also stunningly good. One might venture to say this could be a star-making movie for him if the audience gives as much love to this movie as it deserves.
Most people are either going to see this or refuse to see this based on the preview for the movie. Unfortunately, the preview framed this film as another inspirational Disney sports movie in the vain of Remember the Titans, or Miracle. But this film is so much more than those. For what it's worth, the sports parts are pretty fantastic and true to the sport of cross-country (fascinating in its own right), but that is not what will make you love this movie. The characters and the human drama that plays out around these characters is what sells this movie. I assure you, people who hate running will love this movie.
After it is all said and done, skip the preview and take the family to this intelligent, moving, human drama with one of our generation's most likable stars playing one of his most likable parts ever. It just happens to be called a sports movie.
Director: Niko Caro
Year of Release: 2015

Character to watch: Kevin Costner as Jim White.
Journal your answers to the following questions after you watch the movie.
How does this particular character's journey compare with yours?
Did the character develop certain characteristics during the movie that you have or that you would like to have? If so, what are those characteristics?
What obstacles did this character face? What was his or her biggest challenge?
What would you have done differently if you had been in the same position as the character?
Is this character the type of person you would be friends with? Why or why not?