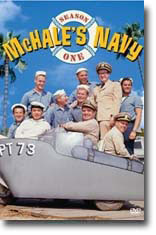 Something of a cross between M*A*S*H* (it's set in wartime) and Sgt. Bilko (the emphasis in on ensemble acting, with a ringleader and his band of merry pranksters), McHale's Navy isn't on a level with those two immortal sit-coms. From 1962 to 1966, McHale's Navy was the ABC networks must-see comedy series, remaining second only to M*A*S*H as a truly funny military sitcom.This amiable show, debuting on DVD with all 36 black & white episodes from its first season (1962-63) on five discs, stands the test of time surprisingly well. Not that there's any important new comedic ground broken here.
These half-hour episodes are pretty much all about the same thing: Lt. Cmdr. Quinton McHale (the always reliable Ernest Borgnine), skipper of Navy PT boat #73, and his crew are stationed "somewhere in the South Pacific, 1943."
They're capable sailors, engaging the Japanese enemy when duty occasionally calls, but most of the time they hang out on their own private island and have a good time–much to the chagrin of their blustery commander, Capt. Wallace Binghamton (Joe Flynn), who's constantly trying to rid himself of the regulation-defying McHale and his fun-loving band of miscreants. In that respect, McHale's Navy is much like Bilko.
But unlike the latter show's brilliant Phil Silvers, Borgnine isn't really a comedian; with his unmistakable cackle, the actor's McHale, while not above taking part in a good-natured prank, is a less a Bilko-esque con artist than a regular guy, a kind of cheer- and ringleader intent on looking after his boys. The real laughmeisters on this show are Tim Conway, who brings his whole bag of shticks to the role of the bumbling Ensign Charles Parker, and Flynn, who's consistently hilarious.
Among the crew, Carl Ballantine stands out as fast-talking Brooklyn native Lester Gruber; TV lovers will also recognize Gavin MacLeod in his first extended TV role before moving on to The Mary Tyler Moore Show and The Love Boat. It's always a bit strange to see war scenes played for laughs–the Pacific Theater in World War II was hardly comedy central, after all. But they are pretty funny.
While the Japanese characters are treated fairly stereotypically, it could have been a lot worse, considering the show's pre-political correctness provenance; hell, many of the roles are actually played by Japanese actors, which was not a given (then or now), and in one episode ("Movies Are Your Best Diversion"), they speak un-subtitled Japanese. Fact is, McHale's Navy is just too mild and good-natured to offend anyone. The sole bonus feature is a dull reunion interview with Borgnine, Parker, and some other cast members.

Character to watch: Ernest Borgnine as Quinton McHale.
Journal your answers to the following questions after you watch the series.
How does this particular character's journey compare with yours?
Did the character develop certain characteristics during the movie that you have or that you would like to have? If so, what are those characteristics?
What obstacles did this character face? What was his or her biggest challenge?
What would you have done differently if you had been in the same position as the character?
Is this character the type of person you would be friends with? Why or why not?