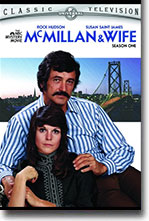 San Francisco Police Commissioner Stewart "Mac" McMillan (Rock Hudson) and his amateur detective wife, Sally (Susan St. James), keep their marriage unpredictable while solving the city's most baffling crimes. Take a nostalgic trip back to 1970s California-cool in this riveting "whodunit" series featuring one of prime-time television's most loved on-screen couples.
I'm a fan for all the old TV shows and this series is well written and still interesting after all these years. I love the cast of characters and location (San Francisco) although I recognize a lot of LA shots! Rock Hudson's character is like everything I've read about him – a real nice, good looking and fun loving guy. This is how I will always remember him.
The other actors are also favorites although the Mildred character still gets on my nerves! John Shuck and Susan St James make the series well acted and real not just a campy curiosity. Interesting to see all the writers and producers who came to real fame later but put a stamp of quality on this early show.
Often, the storylines featured Mac and Sally attending fashionable parties and charity benefits before solving robberies and murders. Shuck appeared as Sgt. Charles Enright and Nancy Walker was Mildred, the couple's sarcastic, hard-drinking maid, both characters serving as comic relief.
For its sixth and final season, the series underwent a major retooling. Susan Saint James left after being unable to come to terms on a new contract. With these developments, the show became known as McMillan and Sally was killed off in a plane crash along with the couple's never-seen son. Mac, now a widower, moved out of the family home and into a luxury apartment. Mildred, meanwhile, was written out as having left the McMillans to open her own diner on the East Coast, which was an inside joke playing up her role as Rosie the waitress in a then-ongoing series of commercials for Bounty Paper Towels. The show was not the same. Still, the first 5 seasons are great!

Character to watch: Susan St. James as Sally.
Journal your answers to the following questions after you watch the series.
How does this particular character's journey compare with yours?
Did the character develop certain characteristics during the movie that you have or that you would like to have? If so, what are those characteristics?
What obstacles did this character face? What was his or her biggest challenge?
What would you have done differently if you had been in the same position as the character?
Is this character the type of person you would be friends with? Why or why not?