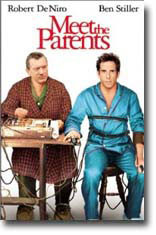 Randy Newman's opening song, "A Fool in Love," perfectly sets up the movie that follows. The lyrics begin, "Show me a man who is gentle and kind, and I'll show you a loser," before praising the man who takes what he wants. Greg Focker (Ben Stiller) is the fool in love in Meet the Parents. Just as he's about to propose to his girlfriend Pam (Teri Polo), he learns that her sister's fiancé asked their father, Jack Byrnes (Robert De Niro), for permission to marry. Now he feels the need to do the same thing.
When Greg meets Jack, he is so desperate to be liked that he makes up stories and kisses ass rather than having the courage of his convictions. It doesn't take an elite member of the CIA to see right through Greg, but that's precisely what Jack is. Directed by Jay Roach, Meet the Parents is an incredibly well-crafted comedy that stands in nice opposition to, say, the sloppy extremes of the Farrelly brothers.
Stiller is great at playing up the uncomfortable comedy of errors, balancing just the right amount of selfishness and self-deprecating humor, while De Niro's Jack is funny as the hard-ass father who just wants a few straight answers from the kid. What makes the Jack character all the funnier is Blythe Danner as his wife, the Gracie to his George Burns, who is the true heart of the movie. Owen Wilson turns in yet another terrific comic performance as Pam's ex-fiancé.
You may not think your in-laws are really so bad after seeing what poor Greg Focker has to go through with his future family. Yes you read right, his name is Greg Focker and he's about to spend the weekend with the parents of the girl he intends to marry. Pam's dad really loves his daughters, and any man who wants to share their lives better be up to his standards.
As an ex-CIA agent who will scrutinize your every move and you better like his cat as well. What will it take for Greg to win the hand of the girl he loves and does he really want to be a part of this crazy family after all? It's laugh out loud stuff as every move he makes turns into a hysterical series of events that has Pam's family turning against him.
Director:  Jay Roach
Year of Release: 2000

Character to watch: Robert De Niro as Jack Byrnes.
Journal your answers to the following questions after you watch the movie.
How does this particular character's journey compare with yours?
Did the character develop certain characteristics during the movie that you have or that you would like to have? If so, what are those characteristics?
What obstacles did this character face? What was his or her biggest challenge?
What would you have done differently if you had been in the same position as the character?
Is this character the type of person you would be friends with? Why or why not?