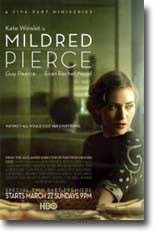 In Michael Curtiz's hands, James M. Cain's novel Mildred Pierce became a suburban noir, but Todd Haynes spins a more class-conscious tale in this HBO miniseries. The Depression is in effect when Mildred (Kate Winslet) breaks with her unfaithful husband, Bert (Brían F. O'Byrne), leaving the Glendale housewife to support her daughters as a waitress and part-time baker.
To keep up the middle-class façade, only neighbor Lucy (Melissa Leo) knows about her blue-collar day job. By protecting 11-year-old Veda (Morgan Turner) from the truth, however, Mildred encourages her snobbish tendencies, but then her pastry-making skills allow her to open a chain of restaurants with help from Lucy, feisty colleague Ida (Mare Winningham), and opportunistic realtor Wally (James LeGros), with whom she has a fling. That ends when she falls for playboy Monty (Guy Pearce), who takes a shine to Veda, at which point the girl becomes truly insufferable.
The first time Mildred slaps her, it's hard not to suppress a cheer. The second time: Veda slaps her mother back. In 1937, when Mildred finally kicks her out (Evan Rachel Wood), you'll wonder why she didn't do it sooner.
Since 1941, audiences have debated Mildred's attempts to buy her daughter's love. Was Veda a bad seed or did slack parenting make her that way? In ditching the murder of the Curtiz film, Haynes and cowriter Jon Raymond (Meek's Cutoff) lend clarity to her motivations. Despite some awkward staging towards the end, Haynes directs with grace, and his cast rises to the occasion, particularly Winslet and O'Byrne. "Sometimes," Mildred tells Veda, "I wonder if you have good sense." The phrase applies equally well to her mother.

Character to watch: Kate Winslet as Mildred.
Journal your answers to the following questions after you watch the series.
How does this particular character's journey compare with yours?
Did the character develop certain characteristics during the movie that you have or that you would like to have? If so, what are those characteristics?
What obstacles did this character face? What was his or her biggest challenge?
What would you have done differently if you had been in the same position as the character?
Is this character the type of person you would be friends with? Why or why not?