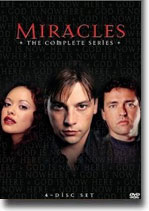 ABC's Miracles had a sizable viewership during its brief 2002-2003 primetime run, but the network's coverage of the Iraq war broke the show's momentum, resulting in cancellation after a mere six episodes. Those half-dozen shows and seven more unaired stories are included in this boxed set, which certainly underscores the series' unfulfilled promise as a kind of spiritually based version of The X-Files.Skeet Ulrich stars as Paul Callan, an investigator of miracles for the Catholic Church. Demoralized and confused about his purpose in life, Paul takes a hiatus from his job, but is soon asked to check out claims about a dying young boy, Tommy Ferguson (Jacob Smith), with the power to heal. During his research, Paul has apocalyptic visions and is himself saved from death by Tommy, but the effort kills the latter.
Tommy becomes a ghost who intermittently appears throughout the series with cryptic warnings about a coming "darkness." Paul grapples with the meaning of that, as well as the significance of a phenomenon in which his own, spilled blood formed the words, "God Is Now Here." Enter Alva Keel (Angus Macfadyen), a paranormal researcher convinced that scattered miracles recently occurring around the world point to a "large event" coming.
Paul warily joins Alva's team, which includes a former cop named Evelyn Santos (Marisa Ramirez). Together they investigate such supernatural oddities as the momentary disappearance of a commercial jet (the passengers subsequently live out their dreams), the possession of a paralysis victim by an entity, the spectral appearance of a dead girl prior to several disasters, and the co-existence of a Civil War-era past and present in a small town.
The final episode, "Paul Is Dead," is a particularly spooky tale (with an unexpected twist) in which our hero reaches into the afterlife to help, and be helped, by Tommy after Evelyn's son goes missing. The series' storylines are fairly comparable to the adventures of Mulder and Scully, with a lot of recognizable human pain and anguish dovetailing with the fantastic.
Some of the elements of Miracles hadn't quite come together by the 13th program–Alva, Paul and Evelyn never really feel like a cohesive unit–but the potential was certainly there and the writing was unusually strong. If Miracles is finally yet another lost opportunity on network television, at least there remains the strong showing represented in this set.
This was a very intense show that made you think. I especially loved the Airplane episode, where everyone gets their wish. It had a touching side story of true unconditional love.

Character to watch: Skeet Ulrich as Paul Callan.
Journal your answers to the following questions after you watch the series.
How does this particular character's journey compare with yours?
Did the character develop certain characteristics during the movie that you have or that you would like to have? If so, what are those characteristics?
What obstacles did this character face? What was his or her biggest challenge?
What would you have done differently if you had been in the same position as the character?
Is this character the type of person you would be friends with? Why or why not?