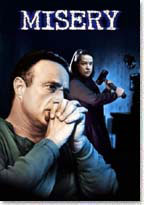 Novelist Paul Sheldon (James Caan) is the author of a series of highly successful novels featuring a character called Misery Chastain. Wanting to focus on more serious novels, he writes a manuscript for a new unrelated novel.
He departs from Silver Creek, Colorado to head to Los Angeles but is caught in a blizzard and his car goes off the road. He is rescued by a nurse named Annie Wilkes (Kathy Bates) who brings him to her remote home. Both of Paul's legs are broken and he has a dislocated shoulder, so he can't get out of bed.
Annie claims she is his "number one fan" and talks a lot about him and his novels. She's happy when Paul lets her read his new novel, but later admits she disliked the use of excessive swearing in it. While feeding him, she is angered and spills soup on him but regains control and apologizes.
She buys a copy of Paul's latest book, Misery's Child, but after learning that he has "killed off" Misery, Annie flies into a rage, almost smashing a table on Paul's head. She reveals that nobody knows where he is. Annie leaves and Paul tries to escape from his room, but she has locked the door.
Misery is an exceedingly good adaptation of the original novel by Stephen King. The novel features one of King's most tightly-wound, increasingly suspenseful tales, and this movie faithfully brings the novel to life on the big screen. Paul Sheldon, America's best selling writer, creator of Misery Chastain and chronicler of her romantic and human struggles and successes, has just finished writing a "serious" novel he hopes will give him the stature he desires. On his trip home with the manuscript, a fierce blizzard causes him to lose control of his car. Annie Wilkes, his number one fan, finds his car at the bottom of a hill, pulls Sheldon out of it, and takes him home to nurse back to health.
As Sheldon begins to adjust to his new surroundings, he is increasingly bothered by his caregiver's erratic mood swings. He soon finds himself a virtual prisoner in her house, essentially unable to move with his two mangled legs. When Annie reads his brand new book, she is exceedingly unhappy with it. When she gets the newly published Misery Chastain novel and finds out that her beloved Misty is dead, she begins unleashing her fury on Sheldon and insisting he resurrect Misty in a new novel written especially for her. All this time, the small mountain town's husband-and-wife police force search for any sign of the missing author (albeit halfheartedly). Eventually, Sheldon realizes escape is something only he can achieve for himself.
Director:  Rob Reiner
Year of Release: 1990

Character to watch: Kathy Bates as Annie Wilkes.
Journal your answers to the following questions after you watch the movie.
How does this particular character's journey compare with yours?
Did the character develop certain characteristics during the movie that you have or that you would like to have? If so, what are those characteristics?
What obstacles did this character face? What was his or her biggest challenge?
What would you have done differently if you had been in the same position as the character?
Is this character the type of person you would be friends with? Why or why not?