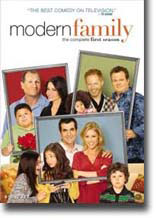 Three affluent Southern California households–the Delgado-Pritchetts, the Dunphys, and the Pritchett-Tuckers–thrum with uproarious life and bustling activities showcased in pithy episode arcs that are neat, if not always tidy. The homes and lifestyles are glossy and well ordered, yet simultaneously full of the chaos and commonplace confusion that make up real life for real modern families everywhere.
Each of the 10 personalities in the ensemble is expertly nuanced, a feat that should be credited not only to the show's creators Steven Levitan and Christopher Lloyd, but also to actors who have without exception been impeccably cast. Each one takes care to bring the tiniest detail of comic shading to their abundant interaction and to the equally important element of their own personal and wildly idiosyncratic character business.
Ed O'Neill plays patriarch Jay Pritchett, a man who's made his bundle, divorced his first wife, and finally found true happiness with Gloria, a much younger Colombian woman who seems to have bounced off the set of a risqué Univision quiz show. Her 10-year-old son Manny, who exhibits many of the traits of a 30-year-old Lothario, completes the first of the unusual family units. The Dunphy household comprises Jay's daughter Claire, her dorky husband Phil, and their three kids, Haley, Alex, and Luke. Phil Dunphy (Ty Burrell) fancies himself a cool dad who's his kids' best friend.
Despite his zealous best intentions, Phil's really just an embarrassment, sometimes most of all to Claire (Julie Bowen), who often treats him like her fourth child. Household three is occupied by Jay's gay son Mitchell (Jesse Tyler Ferguson) and his partner Cameron (Eric Stonestreet), who bring home an adopted Vietnamese baby in the pilot episode for them and everyone else to fawn over. The comic combinations of controlled nuclear family explosions precipitated by this episodic mix are consistently filled with an unending string of gags that burn the full range of comic fuel from gentle smiles to full-on guffaws.
There are nominal story threads (we're not in the land of Seinfeld's "no hugging, no learning" edict), but most of the entertainment comes from throwaway lines and the kind of interaction that feels more like expert improv tossed off by seasoned pros than it does scripted TV farce. There's also a fair amount of precisely executed physical comedy, especially around the Dunphy household, and the show never shies away from either playing up or laying to rest the stereotypes and clichés it brings up with good-natured abandon.
It's also fun to see some famous faces appear as guests or in cameo roles–Edward Norton, Minnie Driver, Elizabeth Banks, Benjamin Bratt, Shelley Long–all of whom clearly get the joke and are having a great time joining in (especially good is Fred Willard, who was born to play Phil's dad).
The four-disc set has a limited number of special features that include some back story bits about the actors and how some of the show's themes developed from the real lives of the writers' real modern families. Best of all are extended scenes and outtakes from the family interview segments that only enhance the casual hilarity that rolls so effortlessly from character to character throughout each episode. It's easy to look forward to time spent in the company of the Pritchett-Dunphy-Tucker clan. I would give this 5 stars except for the handheld, observational, fake documentary format.

Character to watch: Ed O'Neill as patriarch Jay Pritchett.
Journal your answers to the following questions after you watch the series.
How does this particular character's journey compare with yours?
Did the character develop certain characteristics during the movie that you have or that you would like to have? If so, what are those characteristics?
What obstacles did this character face? What was his or her biggest challenge?
What would you have done differently if you had been in the same position as the character?
Is this character the type of person you would be friends with? Why or why not?