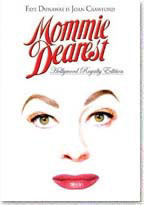 Joan Crawford (Faye Dunaway) is a driven actress and compulsively clean housekeeper who tries to control the lives of those around her as tightly as she controls herself. To prepare for a work day at MGM Studios, she rises at 4:00 am and engages in a strict morning ritual: scrubbing her face with soap and boiling hot water, then plunging her head into a vat of distilled water and ice to close the pores.
When Helga (Alice Nunn), a new maid, thinks she has Joan's living room in spotless condition, Joan finds one minute detail that she overlooked and loses her temper, intimidating the maid as well as her live-in personal assistant, Carol Ann (Rutanya Alda). Joan is in a relationship with Hollywood lawyer Gregg Savitt (Steve Forrest), but her career is in a bit of a downswing. She desperately wants a baby, but is unable to get pregnant; seven pregnancies when she was married to actor Franchot Tone ended in miscarriages.
When Joan is denied an application for adoption, she enlists Gregg's help to secure a baby. Joan adopts a girl whom she names Christina (Mara Hobel, Diana Scarwid), and later a boy, Christopher (Jeremy Scott Reinholt, Xander Berkeley). Joan lavishes Christina with attention and luxuries such as an extravagant birthday party, but also enforces a code of denial and discipline. When Christina is showered with gifts, Joan asks which she likes best, then donates the other gifts to charity.
As Christina rebels against her mother's demands, a series of confrontations ensues. Joan overtakes Christina in a swimming-pool race and proclaims her victory by crowing to the child, "You lost again!" Joan becomes enraged when Christina reacts with disappointment, locking her in the pool house. When Joan discovers her daughter putting on makeup and imitating her, she hysterically hacks off Christina's hair.
Director: Frank Perry
Year of Release: 1981

Character to watch: Faye Dunaway as Joan Crawford.
Journal your answers to the following questions after you watch the movie.
How does this particular character's journey compare with yours?
Did the character develop certain characteristics during the movie that you have or that you would like to have? If so, what are those characteristics?
What obstacles did this character face? What was his or her biggest challenge?
What would you have done differently if you had been in the same position as the character?
Is this character the type of person you would be friends with? Why or why not?