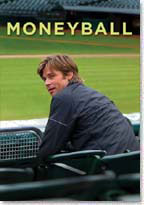 Oakland Athletics general manager Billy Beane (Brad Pitt) is upset by his team's loss to the New York Yankees in the 2001 postseason. With the impending departure of star players Johnny Damon, Jason Giambi, and Jason Isringhausen to free agency, Beane attempts to devise a strategy for assembling a competitive team for 2002 but struggles to overcome Oakland's limited payroll.
During a visit to the Cleveland Indians, Beane meets Peter Brand (Jonah Hill), a young Yale economics graduate with radical ideas about how to assess players' value. Beane tests Brand's theory by asking whether he would have drafted him (out of high school), Beane having been a Major League player before becoming general manager.
Though scouts considered Beane a phenomenal player, his career in the Major Leagues was disappointing. After some prodding, Brand admits that he would not have drafted him until the ninth round and that Beane should probably have accepted a scholarship to Stanford instead.
Sensing opportunity, Beane hires Brand as the Athletics' assistant general manager. The team's scouts are first dismissive of and then hostile towards Brand's non-traditional sabermetric approach to scouting players, most notably Grady Fuson (Ken Medlock) – who is fired by Beane after insulting their approach, and takes to the radio airwaves and doubts the team's future.
Rather than relying on the scouts' experience and intuition, Brand selects players based almost exclusively on their on base percentage (OBP). By finding players with a high OBP but with characteristics that lead scouts to dismiss them, Brand assembles a team of undervalued players with far more potential than the A's hamstrung finances would otherwise allow.
Beane takes this advice to heart and throws out all the conventional wisdom of baseball sages, willing to hire players who don't know anything about fielding as long as they can take pitches and end up with a walk. Most of the film is about people who think they know baseball not believing in this new system and Beane trying to stick with it in the face of early failure.

Director: Bennett Miller
Year of Release: 2011

Character to watch: Brad Pitt as Billy Beane.
Journal your answers to the following questions after you watch the movie.
How does this particular character's journey compare with yours?
Did the character develop certain characteristics during the movie that you have or that you would like to have? If so, what are those characteristics?
What obstacles did this character face? What was his or her biggest challenge?
What would you have done differently if you had been in the same position as the character?
Is this character the type of person you would be friends with? Why or why not?