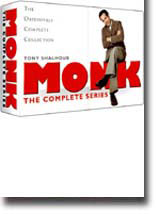 The ranks of fictional genius gumshoes were joined by former San Francisco detective Adrian Monk (Tony Shalhoub) in the summer of 2002, and he is indeed a welcome addition. Cable channel USA Network introduced Monk, a bright comedy-drama series about an obsessive-compulsive sleuth drummed out of police work following the murder of his wife and a subsequent spike in his overwhelming neuroses.
Once a rising star in the homicide department, the twitchy savant is still valuable to Captain Stottlemeyer (Ted Levine), who reluctantly calls on Monk to solve difficult, high-profile murders of judges, billionaires, police informants, and famous attorneys.
Monk's talent for finding clues and seeing the big picture in criminal investigations makes him a force to reckon with, but his many phobias (germs, heights, asymmetry, and much, much else) aggravate Stottlemeyer and make Monk completely dependent on a long-suffering assistant, Sharona (Bitty Schram), a single mom who functions as Dr. Watson to Monk's Sherlock Holmes.
Each of the 12 episodes included in Monk: The Complete First Season is a delightful mix of clever whodunit puzzler, neurotic schtick, and deepening relationships. Among the latter, the bond between Monk and Sharona is most touching, as the platonic friends, sometimes aghast at how involved they are in each other's lives, surprise themselves with the breadth of their trust and commitment.
In "Mr. Monk Goes to the Asylum," Monk is forced into a stay at a mental hospital, where a murderer has convinced him he's crazy; it's Sharona who makes her boss realize he's not. In "Mr. Monk and the Earthquake," it's Monk who rushes to Sharona's aid when he deduces that a lying friend is about to kill her.
In almost every episode, Monk is confronted with a phobic limitation he must overcome in order to save the day. The question is whether he will heal enough, one day, to re-join his old squad. For the sake of Monk's winning formula and fans, one has to hope such good news never comes to pass.
Sherlock Holmes, Columbo, Hercule Poirot — genius detectives are usually a bit quirky. But no other is as quirky as Adrian Monk, the obsessive-compulsive detective — and "Monk: Complete Series " compiles every episode of this funny, likable little mystery series. Tony Shalhoub shines as title character, solving the case with his gift/curse and his willingness to go anywhere… that doesn't have germs.
Adrian Monk's wife Trudy was killed in a car-bombing, and the devastated detective fell apart completely. Years later, Monk  is partially recovered, but he still is obsessive-compulsive and has dozens of phobias. The only way he manages is with his assistant Sharona (Bitty Schram) — and later her successor Natalie (Traylor Howard) — babysitting him.

Character to watch: Tony Shalhoub as Adrian Monk.
Journal your answers to the following questions after you watch the series.
How does this particular character's journey compare with yours?
Did the character develop certain characteristics during the movie that you have or that you would like to have? If so, what are those characteristics?
What obstacles did this character face? What was his or her biggest challenge?
What would you have done differently if you had been in the same position as the character?
Is this character the type of person you would be friends with? Why or why not?