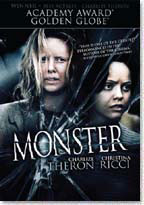 After moving to Florida, Aileen Wuornos (Charlize Theron), a female prostitute, meets Selby Wall (Christina Ricci) in a gay bar. After initial hostility and declaring that she is not gay, Aileen talks to Selby over beers. Selby takes to Aileen almost immediately, as she likes that she is very protective of her. Selby invites her to spend the night with her.
They return to the house where Selby is staying (temporarily exiled by her parents following the accusation from another girl at church that Selby tried to kiss her). They later agree to meet at a rollerskating rink and kiss for the first time. Though their passion and emotion is clear, they have nowhere to go and Selby goes home.
After being raped and brutalized by a client, Vincent Corey (Lee Tergesen), Aileen kills him in self-defense and decides to quit prostitution. She confesses her action to Selby, while Selby has been angry with her for not succeeding in supporting the two of them. Eventually, unable to pay the bills, Aileen tries to find legitimate work, but, due to her lack of qualifications and past, prospective employers reject her, and are occasionally openly hostile to her.
Desperate for money, she returns to her career as a prostitute. She continues to commit several acts of murder with intent to rob her victims, each killed in a more brutal way than last. She spares one man out of pity, when the man admits he has never had sex with a prostitute, but ultimately kills another man who, instead of exploiting her, offers help.
Aileen uses the money she steals from her victims to indulge herself and Selby; the two of them drink in bars and eat in fancy restaurants. However, as Selby reads in the papers about the string of murders and begins to suspect that her girlfriend may have committed them, the two have a falling out and Selby returns to Ohio on a charter bus.
Aileen is eventually arrested at a biker bar and speaks to Selby one last time while in jail. Selby reveals some incriminating information over the telephone and Aileen realizes that the police are listening in. To protect her lover, Aileen admits she committed the murders alone. During Aileen's trial, Selby testifies against her. Aileen is later convicted and sentenced to death.
Director: Patty Jenkins
Year of Release: 2003

Character to watch: Charlize Theron as Aileen Wuomos.
Journal your answers to the following questions after you watch the movie.
How does this particular character's journey compare with yours?
Did the character develop certain characteristics during the movie that you have or that you would like to have? If so, what are those characteristics?
What obstacles did this character face? What was his or her biggest challenge?
What would you have done differently if you had been in the same position as the character?
Is this character the type of person you would be friends with? Why or why not?