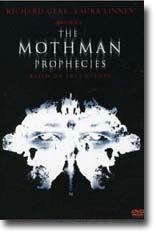 Described by director Mark Pellington as a psychological mystery with naturally surreal overtones, The Mothman Prophecies begins with a view into the life of an ordinary happy couple, but quickly turns dark. Richard Gere brings adequate torment, portent, and ambiguity to his role as a Washington Post reporter and grieving widower plagued by a mysterious, unseen urban legend known as the Mothman.
Pellington develops subtle doom and gloom that's as effective as a paranoid streak.As the Mothman terrifies a West Virginia town, he remains an enigma, glimpsed almost subliminally. This–along with a magnificently creepy soundtrack–amplifies the movie's surreal overtones while keeping everything else (unsettling phone calls, prophesied disasters, suggestions of the afterlife) completely unexplained. With Laura Linney and Debra Messing playing strong female roles, this moody thriller's worth a look.Pellington definitely does a nice job of putting the audience into the perspective of the protagonist, John Klein (Gere) as he tries to unravel this mystery. The hook for this film is a car accident in which a sudden mothlike image startles Klein's wife, Mary (Messing). The resulting accident is not fatal, but leads to the discovery of a brain tumor that proves to be.
Klein is haunted by not only Mary's death, but her dying wish that he be happy and her frantic question, "Didn't you see it?" After her death he discovers she has drawn pages of disturbing mothlike images.We then jump ahead two years to the line. Klein, a political reporter for the Washington Post (and therefore a cynical skeptic by occupation if not temperment) leaves at 1 a.m. for Richmond. But at 2:30 he finds his car breaking down near a house in Point Pleasant, West Virginia–400 miles away–with no memory of how he got there. Curiouser and curiouser, when he knock on the door of Gordon Smallwood (Will Patton), he is threatened with a shotgun and told this is the third night in a row he has come knocking on the door.
The sinker is Connie Mills (Linney), the local cop who saves Klein from Gordon and who admits that strange things have been happening in this neck of the woods for quite some time, usually having something to do with disturbing mothlike images. You might think that there is an inevitable romance to be had here between Klein and Connie, but whatever attraction exists between the two is nothing in the face of the growing mystery.
Director: Mark Pellington
Year of Release: 2002

Character to watch: Richard Gere as John Klein.
Journal your answers to the following questions after you watch the movie.
How does this particular character's journey compare with yours?
Did the character develop certain characteristics during the movie that you have or that you would like to have? If so, what are those characteristics?
What obstacles did this character face? What was his or her biggest challenge?
What would you have done differently if you had been in the same position as the character?
Is this character the type of person you would be friends with? Why or why not?