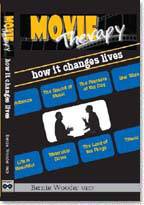 Movie therapy: Do you believe in the healing power of film? Having a mid-life crisis? Overburdened with guilt? Unable to form healthy relationships? The answer to these problems could be as simple as sitting down to watch your favorite DVD.
At least, that is what the psychotherapist and film buff Bernie Wooder believes. He is so passionate about the healing power of films that he is pioneering the use of so-called 'movie therapy' in Britain, and has just written a book explaining how it works.
Wooder was listening to a client talking when a film suddenly flashed across his mind. That was how his pioneering work on movie therapy began, an approach that today attracts huge interest in both therapy and film circles.
By encouraging people to examine their chosen films as part of their therapy, Bernie Wooder found he could help them unlock their traumas – with astonishing results. As the fascinating stories in this book show, movie therapy is no gimmick nor quick fix. Rather, in the hands of a trained professional, it can promote healing and assist people in leading more contented and rewarding lives.
Says Bernie Wooder "Movies are the most powerful art form that exists today, watched and understood by everyone. It makes sense to harness this power and use it as an aid to relieve suffering."
About the Author: A qualified psychotherapist and counselor for 20 years, Bernie Wooder is the leading pioneer in applied movie therapy. From his UK practices close to the Elstree film studios (also formally at Harley Street, London), he coaches and counsels one on one with clients in any way that assists their progress.
Author: Bernie Wooder
Year of Release: 2011