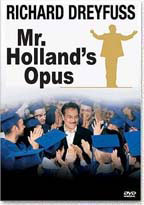 In 1965, 30-year-old Glenn Holland (Richard Dreyfuss) is a successful musician and composer. In an attempt to enjoy more free time with his young wife, Iris (Glenne Headly), and to enable him to compose a piece of orchestral music, Holland accepts a teaching position.
Glenn soon realizes that his position as a music teacher makes him a unimportant figure with school administrators, such as assistant principal Gene Wolters (William H. Macy). He sees that even is outranked by the high school's football coach, Bill (Jay Thomas), who ends up becoming his best friend.
When Iris becomes pregnant, the couple buy their first house. Their son Cole (Nicholas John Renner,  Joseph Anderson,  Anthony Natale) is born sometime during the summer after Glenn's first year teaching. As the years pass, Glenn's lack of quality time with Iris becomes problematic when their son, Cole, is diagnosed as deaf.
Glenn reacts with hostility to the news that he can never teach the joys of music to his own child. Iris willingly learns American Sign Language to communicate with her son, but Glenn resists. This causes further estrangement within the family.
This is a movie about love and love of music. Glenn Holland is the central figure who strives to love his students and family through his devotion to music. Born deaf-toned, the dream of teaching his own son to become an eminent violinist inevitably bursts with much frustration. Glenn Holland is not perfect; in fact, interactions with his students through failures and triumphs gradually refine him to be a loving and well-respected man. Love propels him to reconcile his frustration for his son and breaks the ice in his relationship with his wife.
For over 30 years, this young composer has taught generations of students not only about music, but love, respect, faith, and confidence. The final reunion of his students features orchestration of "American Symphony" to pay the highest tribute to this self-sacrificing teacher.
Director: Oliver Wood
Year of Release: 1995

Character to watch: Richard Dreyfuss as Glenn Holland.
Journal your answers to the following questions after you watch the movie.
How does this particular character's journey compare with yours?
Did the character develop certain characteristics during the movie that you have or that you would like to have? If so, what are those characteristics?
What obstacles did this character face? What was his or her biggest challenge?
What would you have done differently if you had been in the same position as the character?
Is this character the type of person you would be friends with? Why or why not?