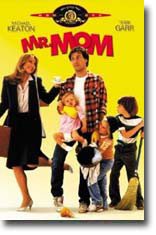 When Jack Butler (Michael Keaton) loses his job at an auto factory, he expects to quickly find another. But instead, his wife Caroline (Teri Garr) starts working for an ad agency and Jack ends up taking care of the house and kids.
He soon runs afoul of shopping etiquette, a voracious vacuum cleaner, and he can't even drop his kids off at school properly. He starts losing his pride and letting himself go. He stops shaving, drinks at all hours, and watches soap operas.
Not only does a predatory divorcée (Ann Jillian) have her eye on Jack, Caroline's new boss (Martin Mull) has more than business on his mind. Will their marriage survive? What makes Mr. Mom work isn't its role-reversal premise, but its clever off-the-main-plot scenes like the obstacle course at the company picnic, where a footrace with swim fins is set to a variation on the theme to Chariots of Fire; a poker game using discount coupons for money; or a traumatic, soap-opera-influenced dream Jack has when he realizes his life is going down the toilet.
This film was the first starring role for Michael Keaton, and he makes the most of both its comic and sentimental side. As Jack, he has to contend with their hyper kids, a ravenous vacuum cleaner, an angry washing machine and an oversexed neighbor.
From late nights in the boardroom to lonely nights in the bedroom, the biggest challenge for both Jack and Caroline is learning to trust one another with their reversed roles which they'd better do quickly before Mr. Mom becomes Mr. Single Mom.
Director:  Stan Dagroti
Year of Release: 1983

Character to watch: Michal Keaton as Jack Butler.
Journal your answers to the following questions after you watch the movie.
How does this particular character's journey compare with yours?
Did the character develop certain characteristics during the movie that you have or that you would like to have? If so, what are those characteristics?
What obstacles did this character face? What was his or her biggest challenge?
What would you have done differently if you had been in the same position as the character?
Is this character the type of person you would be friends with? Why or why not?