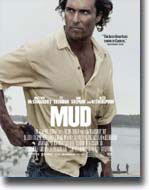 Mud is the newest film from writer-director Jeff Nichols. As the movie opens, two young boys, 14 yr. old Ellis (Tye Sheridan) and his best friend Neckbone (Jacob Lofland), are playing in a small boat on the Mississippi river, on their way to an island where they have found something incredible: a boat that somehow ended up high in a tree.
The boys think the boat is abandoned and want to make it their playground, only to find out that someone is living in the boat, a man named Mud (Matthew McConaughey). Mud is a refuge of the law for killing a man who got involved with Mud's on-again, off-again girlfriend Juniper (Reese Witherspoon).
Mud gains the trust of the boys and convinces them to assist him in getting the boat lowered from the tree. We also get to know Ellis' family, as his mom and dad are going through tough times and are contemplating divorcing. This frightens Ellis as it may lead to having to move away from his beloved house on the river.
At this point – about half-way through the movie – we begin to wonder if Mud really who he claims to be? Will the boat be lowered from the tree? Do Mud and Juniper find true love? Will Ellis find a way to save his house on the river? To tell you more would ruin your viewing experience, you'll just have to see for yourself how it all plays out.
Mud is a naturally beautiful film. Filmed in Dumas and Stuttgart, Arkansas Adam Stone the cinematographer does a wonderful job showing off the natural beauty of the south and Arkansas which was matched by captivating minimalistic score done by composer David Wingo that fit the sluggish pace and cinematography of the film perfectly.
While Mud isn't perfect story wise or pacing wise it still has a really good heartwarming coming of age story that is greatly complimented by the actors such as Matthew McConaughey in his best acting job of his career, Reese Witherspoon, and Tye Sheridan and Jacob Lofland who I think have a potential of a very bright career in Hollywood.
Director: Jeff Nichols
Year of Release: 2013

Character to watch: Matthew McConaughey as Mud.
Journal your answers to the following questions after you watch the movie.
How does this particular character's journey compare with yours?
Did the character develop certain characteristics during the movie that you have or that you would like to have? If so, what are those characteristics?
What obstacles did this character face? What was his or her biggest challenge?
What would you have done differently if you had been in the same position as the character?
Is this character the type of person you would be friends with? Why or why not?