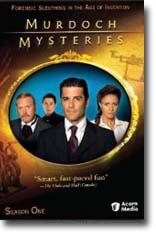 Inspired by a series of television movies based on the mystery novels of Maureen Jennings, the enjoyable
Murdoch Mysteries: Series One
follows the investigations of Toronto police detective William Murdoch at the close of the 19th century.
A man of scientific progress as well as devout Catholicism, Murdoch (Yannick Bisson) approaches mysteries with such new, state-of-the-art techniques as fingerprinting, blood-testing, and trace evidence, collaborating closely with his department's pathologist, Dr. Julia Ogden (Hélène Joy).Working under the skeptical Inspector Brackenreid (Thomas Craig), an old-school copper who respects his lead investigator's results but has little patience for his complex methods, Murdoch often encounters new-fangled technology that, in time, will pave the way for such 20th-century staples as radio, television and the electronic grid.
At the same time, the faith element in Murdoch's view of the world allows him to be something more than a complete rationalist. His occasional reliance on a medium (Maria del Mar) to help him discover clues, and his church-derived ethics are all part of Murdoch's approach to an increasingly complicated world.
The first episode in Murdoch Mysteries: Season One is an excellent template for all 13 shows in this boxed set. "Power" finds Murdoch trying to discover how and why a woman was killed during a demonstration of the "evils" of alternating-current-derived electricity put on by a direct-current power company. Murdoch's queries put him in touch with Nikola Tesla, the real-life father of the AC motor. "The Glass Ceiling" pits Murdoch's scientific techniques against the more brutal approach of his boss, Brackenreid, who seems to be the target of a killer linked to an old case.
"Elementary, My Dear Murdoch" somewhat inevitably pairs Murdoch in a murder investigation with one of his idols, Sir Arthur Conan Doyle, whose faith in such spiritualist pursuits as seances complicates things. Doyle returns in a later episode, "Belly Speaker," again proving more of a meddler than a help in a case involving a mad ventriloquist.
"Bad Medicine" is a scary story about a hooded archer killing off the patients at a clinic for advanced brain study. The aforementioned medium has unnerving visions of Murdoch becoming one of the murderer's victims. The last episode, "The Annoying Red Planet," is easily the season's most ambitious, involving crop circles, possible extraterrestrial footprints, and a genuine unidentified flying object that pushes the series into The X-Files territory.
If you like historical mysteries, I recommend trying out this series. It's as gripping and detailed as, say, Holmes and Poirot with the character development and cleverness of Marple. By all means, delve into the crimes and squalor of William Murdoch's world of murder and injustice.

Character to watch: Yannick Bisson as William Murdoch.
Journal your answers to the following questions after you watch the series.
How does this particular character's journey compare with yours?
Did the character develop certain characteristics during the movie that you have or that you would like to have? If so, what are those characteristics?
What obstacles did this character face? What was his or her biggest challenge?
What would you have done differently if you had been in the same position as the character?
Is this character the type of person you would be friends with? Why or why not?