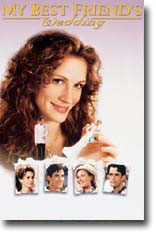 One of the best romantic comedies of the 1990s, My Best Friend's Wedding not only gave Julia Roberts a delightful vehicle for her crowd-pleasing comeback, but it further distinguished itself by avoiding the conventional plotting of the genre.
Julia plays a prominent Chicago restaurant critic whose best friend (Dermot Mulroney) is a former lover from her college days with whom she'd made a binding pact: if neither of them were married by the age of 28, they'd marry each other.
Just when they're about to reach the deadline of their agreement, Mulroney arrives in Chicago to introduce Roberts to his seemingly perfect fiancée (Cameron Diaz) and announce their wedding in just three days. That leaves the shocked Julia with just three short days to sabotage the wedding and marry the man she now realizes she's loved all along.
With potential heartbreak waiting in the wings, she'll either get what she wants or pay the price for her selfish behavior, and Ronald Bass's cleverly constructed screenplay keeps us guessing to the very end. Rupert Everett scored rave reviews for his scene-stealing performance as Robert's gay friend who goes along with her scheming (but only so far), and even as she makes her character's needy desperation disarmingly appealing, Roberts wisely allows Diaz to capitalize on her charming time in the spotlight.
As the romantic outcome remains uncertain, the viewer is held in a state of giddy suspense, and director P.J. Hogan pulls off some hilarious scenes (like a restaurant full of people singing the Dionne Warwick hit "I Say a Little Prayer") that could easily have fallen flat in the hands of a less talented filmmaker.
Director:  P. J. Hogan
Year of Release: 1997

Character to watch: Julia Roberts as Julianne Potter.
Journal your answers to the following questions after you watch the movie.
How does this particular character's journey compare with yours?
Did the character develop certain characteristics during the movie that you have or that you would like to have? If so, what are those characteristics?
What obstacles did this character face? What was his or her biggest challenge?
What would you have done differently if you had been in the same position as the character?
Is this character the type of person you would be friends with? Why or why not?