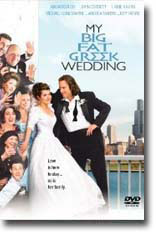 Toula Portokalos (Nia Vardalos) is 30 and unmarried. Which means as a nice Greek girl, she's a failure. All her cousins did the right thing and married Greek boys and made Greek babies. So everyone worries about what will become of Toula. Then one day she sees the ultimate unattainable guy and realizes the only way her life will get better is if he gets away from her big, fat Greek family.
Toula escapes from the family restaurant. She exchanges her seating hostess jacket for a college diploma, convinces her aunt to give her a new job, and trades in her coke-bottle glasses for contact lenses, just in time for "him" to walk back into her life. Ian Miller (John Corbett) is tall, handsome but defnitely not Greek. Their courtship is an Olympian culture clash.
Can Ian handle Toula, her parents, her aunts, uncles, cousins and several centuries of Greek heritage? Will Toula discover the love she's been missing right in the heart of her big, fat family? One thing is for sure, for better or worse, for richer or poorer, with Ian's proposal Toula is headed for her big, fat Greek wedding.
My Big Fat Greek Wedding has not only does it have believable situations and engaging characters, but these characters and particularly our romantic heroine, Toula, look like actual human beings instead of plastic movie stars. The result is the very accessible tale of a Greek-American girl whose family sees her as over the hill at 30, and who falls for a WASPy guy and then has to endure the outrage, doubt, and ultimate acceptance of her deeply ethnically centered family.
It is a rare gem of a movie when people can poke fun at themselves and yet not mind that everybody else is laughing as well. this movie truly does have something for everybody. if you are Greek, you will love the familiarity of this movie and will find yourself comparing the people in the film to your own family.
You will also find yourself laughing at a few areas in the movie. If you are not Greek you will simultaneously wish you were and be glad you are not when you see the closeness, love, overbearing nature and complete lack of any privacy poor Tula goes through in this film.
Director: Joel Zwick
Year of Release: 2003

Character to watch: Nia Vardalos as Toula Portokalos.
Journal your answers to the following questions after you watch the movie.
How does this particular character's journey compare with yours?
Did the character develop certain characteristics during the movie that you have or that you would like to have? If so, what are those characteristics?
What obstacles did this character face? What was his or her biggest challenge?
What would you have done differently if you had been in the same position as the character?
Is this character the type of person you would be friends with? Why or why not?