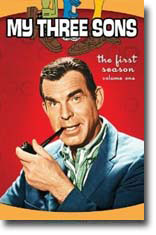 When one thinks of cutting edge television,
My Three Sons
does not immediately leap to mind, but this beloved Boomer-era staple. It ran for 12 seasons, which, for a family sitcom, is second in longevity only to
The Adventures of Ozzie & Harriet
and broke the nuclear family mold.
Fred MacMurray's Steve Douglas was a widower, raising his titular brood–college-bound Mike (Tim Considine), middle son Robbie (Don Grady), and youngest son Chip (Stanley Livingston)–with the help of his gruff, but soft-hearted father-in-law, Bub (William Frawley).
In the first episode, when a door-to-door cosmetics salesman asks to see the woman of the house, Bub laughs, "Boy, do you have the wrong house." Also not par for the sitcom course is the avant-garde use of sound effects. In one episode, sibling rivalry over a girl results in a "cold war" between Mike and Robbie. Their dinner table sniping as Steve tries to broker peace is punctuated by the sounds of guns firing and bombs exploding.
Which is to say that My Three Sons has aged nicely, and has much to offer beyond nostalgia. No offense to the great William Demarest, who replaced an ailing Frawley in 1965, but the series' "Bub" years were the best. Save for the episode in which comedian George Gobel is a guest at the house, the situations are grounded in reality, and the writing often surprises with twists that subvert sitcom convention and stereotypes.
"Countdown" cleverly unfolds in real time as the family's Monday morning routine plays out against a televised satellite launch. In another episode, a fraternity rejects Mike, not because they are snobs (the usual sitcom portrayal), but because they believe Mike isn't serious enough about his education.
Some episodes simply bring home the laughs, as in "The Little Ragpicker," in which a realistic looking dummy causes a new neighbor to think the worst about the Douglases. But there is genuine pathos in "Bub in the Ointment," in which Bub's "Irish temper" and lack of tact embarrass the kids, until Steve reminds Mike of the sacrifices Bub made to move in with the family after his daughter died.
The boys talk, act, and fight like brothers, and Steve, while a pipe-puffing fount of sage fatherly advice, is sometimes at a loss, and is allowed to be testy and impatient with his "wild bunch." The split season is unfortunate, but these inaugural 18 episodes are a healthy serving for those who want a taste of this iconic series.

Character to watch: Fred MacMurray as Steve Douglas.
Journal your answers to the following questions after you watch the series.
How does this particular character's journey compare with yours?
Did the character develop certain characteristics during the movie that you have or that you would like to have? If so, what are those characteristics?
What obstacles did this character face? What was his or her biggest challenge?
What would you have done differently if you had been in the same position as the character?
Is this character the type of person you would be friends with? Why or why not?