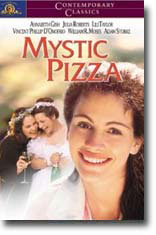 A sweet and sassy comedy about the bonds of sisterhood, Mystic Pizza offers the opportunity to see some solid young actors early in their careers. Three sisters of blue-collar Portuguese descent work in a pizzeria in the coastal town of Mystic, Connecticut. Each has her own unique romantic entanglements.
One is the fast girl in town, Daisy, (Julia Roberts), who falls for a rich kid but wonders if she'll ever be accepted; one is the lifelong local girl JoJo (Lili Taylor) in love with her fisherman boyfriend Bill (Vincent D'Onofrio) but scared of what marriage will do to their sex lives; and the youngest sister Kat (Annabeth Gish) dreams of going to Yale but during a summer of baby-sitting has an affair with a married man.
Daisy, a girl who's never been able to live up to her mothers expectations, lives only for herself, and is happy with it, until a rich young boy named Charles (Adam Storke) shows up at the local pool hall. He instantly falls for her, but Daisy is afraid that he is just using her to get back at his snobbish parents. "Bring home your poor Portuguese girlfriend, shake up the family a little bit." But Charlie isn't like that, and it isn't until Daisy discovers more about herself that she realizes this.
Then there's her younger sister Kat, whom her mother is so proud of because she will be attending Yale. Kat has never been in love and ends up falling for the married father of the young girl she baby sits for; in this short time she gets to experience the joys of love and the pain of being heartbroken when his wife returns.
Their friend JoJo is another story altogether. She loves her boyfriend Bill, but every time she tries to walk down the isle she pictures herself fat and ugly with all these kids hanging around and ends up passing out. In the end they all pass major milestones that come with life, and the movie ends with the girls looking into the stars. Through it all each sister depends on the others regardless of the complications. It's the alluring charm of the three disparate leads that makes Mystic Pizza the delightful experience it is.
Director: Donald Petrie
Year of Release: 1988

Character to watch: Julia Roberts as Daisy Arujo.
Journal your answers to the following questions after you watch the movie.
How does this particular character's journey compare with yours?
Did the character develop certain characteristics during the movie that you have or that you would like to have? If so, what are those characteristics?
What obstacles did this character face? What was his or her biggest challenge?
What would you have done differently if you had been in the same position as the character?
Is this character the type of person you would be friends with? Why or why not?