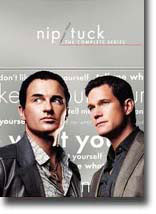 Hotshot plastic surgeons Dr. Sean McNamara (Dylan Walsh) and Dr. Christian Troy (Julian McMahon) experience full-blown midlife crises as they confront career, family and romance problems over six seasons of this groundbreaking series. Set first in South Miami Beach and later moving to L.A., these cutting-edge stories range from funny to suspenseful to uncommonly powerful. Surgeries are graphically bold.
Sexuality is rampant. Guest stars who go under the knife include Rosie O'Donnell, Joan Rivers, Kathleen Turner and Larry Hagman, among others. From Glee co-creator Ryan Murphy, Nip/Tuck is a prescription for entertainment unlike anything you've ever seen.
For six amazing seasons Julian MacMahon and Dylan Walsh made viewers laugh, cry, and be anxious as we watched week after week the trials and tribulations that Christian and Sean got themselves embroiled in. Never before had television so graphically and intellectually dramatized people's infatuation with looking beautiful by "going under the knife". Christian and Sean were not only intelligent and gorgeous-looking doctors, but were real human beings who sometimes had more problems than their patients.
"Nip/Tuck" also had a supporting cast that was as good as the leads and included Kelly Carlson, John Hensley, and Joley Richardson. Some huge Hollywood names were added to the cast as the years progressed in guest-roles including Vanessa Redgrave, Rosie O'Donnell, Mario Lopez, Joan Rivers, and most importantly Sharon Gless who played a psycho, based on Annie Wiles, in the fifth season.
This wonderful box set includes all 100 widescreen episodes of the series, along with all the bonus features that were part of the individual sets. These bonuses are gag reels, deleted scenes, and featurettes.

Character to watch: Julian McMahon as Christian Troy.
Journal your answers to the following questions after you watch the series.
How does this particular character's journey compare with yours?
Did the character develop certain characteristics during the movie that you have or that you would like to have? If so, what are those characteristics?
What obstacles did this character face? What was his or her biggest challenge?
What would you have done differently if you had been in the same position as the character?
Is this character the type of person you would be friends with? Why or why not?