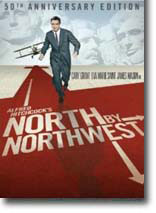 Madison Avenue advertising man Roger Thornhill (James Stewart) finds himself thrust into the world of spies when he is mistaken for a man by the name of George Kaplan. Foreign spy Philip Vandamm (James Mason) and his henchman Leonard (Martin Landau) try to eliminate him but when Thornhill tries to make sense of the case, he is framed for murder.
Now on the run from the police, he manages to board the 20th Century Limited bound for Chicago where he meets a beautiful blond, Eve Kendall (Eva Marie Saint), who helps him to evade the authorities.
Thornhill's world is turned upside down yet again when he learns that Eve isn't the innocent bystander he thought she was. Not all is as it seems however, leading to a dramatic rescue and escape at the top of Mt. Rushmore.
As Roger delves deeper into his search for Kaplan he becomes a useful asset to a spy, the Professor (Leo G. Carroll) who has some staggering revelations in store for Roger. The question is does he find the elusive Kaplan? What of Eve? Will Vandamm and Leonard be brought to justice? Poor Roger has many death defying moments to negotiate before he can find the answers.
A strong candidate for the most sheerly entertaining and enjoyable movie ever made by a Hollywood studio, Hitchcock was at his most effervescent in this romantic comedy-thriller that also features one of the definitive Cary Grant performances.
It's a classic Hitchcock Wrong Man scenario and there are many famous set pieces, such as the stabbing at the United Nations, the crop-duster plane attack in the cornfield (where a pedestrian has no place to hide), and the cliffhanger finale atop the stone faces of Mount Rushmore. Plus a sparkling Ernest Lehman script and that pulse-quickening Bernard Herrmann score.
Director: Alfred Hitchcock
Year of Release: 1959

Character to watch: James Stewart as Roger Thornhill.
Journal your answers to the following questions after you watch the movie.
How does this particular character's journey compare with yours?
Did the character develop certain characteristics during the movie that you have or that you would like to have? If so, what are those characteristics?
What obstacles did this character face? What was his or her biggest challenge?
What would you have done differently if you had been in the same position as the character?
Is this character the type of person you would be friends with? Why or why not?