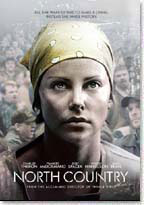 In 1989, Josey Aimes (Charlize Theron) returns to her hometown in northern Minnesota with her children, Sam and Karen (Thomas Curtis, Elle Peterson), after escaping from her abusive husband. She moves in with her parents, Alice and Hank (Sissy Spacek, Richard Jenkins). Hank is ashamed of Josey, who became pregnant at the age of 16, and believes that this was the result of Josey being promiscuous.
The townspeople believe the same, which causes them not to allow Josey to blend in. Her only friends are Glory (Frances McDormand) and Glory's boyfriend Kyle Dodge (Sean Bean). Glory, who works at the local iron mines (the town's main source of income), aids Josey in getting a job there.
Glory and Kyle also allow Josey to stay at their place with her children, due to Josey's bad relationship with her father. Josey quickly befriends the other female workers at the mine, who include Glory, Sherry (Michelle Monaghan) and Big Betty (Rusty Schwimmer), and becomes the target of provocations spearheaded by Bobby Sharp (Jeremy Renner), Josey's high school boyfriend who also works at the mine.
Her attempts to stop the provocations by reporting them to the mine's higher-ups only worsens matters, and soon all the women are being verbally and physically abused by men at the mine. Josey is also sexually harassed by many of them, including Bobby.
Josey's refusal to give in to her male co-workers' demands causes them to spread lies about her being promiscuous and trying to seduce them, which cause Josey to be further segregated not only by her father and the men's wives, but also by Sam, who starts believing that his mother is indeed promiscuous after discovering that he was the result of her teenage pregnancy.
Director: Niki Caro
Year of Release: 2005

Character to watch: Charlize Theron as Josey Aimes.
Journal your answers to the following questions after you watch the movie.
How does this particular character's journey compare with yours?
Did the character develop certain characteristics during the movie that you have or that you would like to have? If so, what are those characteristics?
What obstacles did this character face? What was his or her biggest challenge?
What would you have done differently if you had been in the same position as the character?
Is this character the type of person you would be friends with? Why or why not?