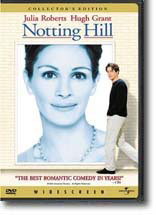 Every man's dream comes true for William Thacker (Hugh Grant), an unsuccessful Notting Hill bookstore owner, when Anna Scott (Julia Roberts), the world's most beautiful woman and best-liked actress, enters his shop. A little later, he still can't believe it himself, William runs into her again – this time spilling orange juice over her. Anna accepts his offer to change in his nearby apartment, and thanks him with a kiss, which seems to surprise her even more than him.
Eventually, Anna and William get to know each other better over the months, but being together with the world's most wanted woman is not easy – neither around your closest friends, nor in front of the all-devouring press.
At the height of her career finding the ordinary man in Notting Hill (an actual place in the UK) and falling in love with him. The unlikely story of travel bookstore owner getting involved with a mega-star actress is a fantasy but then it's a movie… and their story is fun to watch. Their quirky romance struggles a bit while they try to find a common ground for the couple from opposite ends of the spectrum- and the movie tries to convey that even famous actresses have normal needs, too.
Like love and the need to belong in the world. The secondary characters like Spike (Rhys Ifans), Will's flatmate, Will's friends (Tim McInnerny, Gina McKee, Hugh Bonneville) and sister (Emma Chambers) just about steal the scenes. This movie is sweet, fun, poignant and a great happy ending. In the press conference scene at the end, when William and Anna stare at each other across the room, you can feel the love and happiness.
Director:  Roger Michell
Year of Release: 1999

Character to watch: Hugh Grant as William Thacker.
Journal your answers to the following questions after you watch the movie.
How does this particular character's journey compare with yours?
Did the character develop certain characteristics during the movie that you have or that you would like to have? If so, what are those characteristics?
What obstacles did this character face? What was his or her biggest challenge?
What would you have done differently if you had been in the same position as the character?
Is this character the type of person you would be friends with? Why or why not?