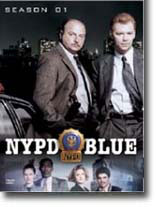 Within the first few minutes of the pilot episode, it's clear what made
NYPD Blue
stand out from the rest of the cop show pack, as the characters express themselves in startlingly colorful language.
This, combined with glimpses of nudity, earned NYPD Blue the reputation as R-rated television–but just about every episode demonstrates the propulsive storytelling and superb ensemble acting that put substance behind the flash.The show revolves around two detectives: Tough, moralistic, but passionate John Kelly (David Caruso) and hair-trigger Andy Sipowicz (Dennis Franz), who wrestles with booze and racist tendencies. Caruso rose to prominence as the star, but his intensity bleeds too easily into preening self-righteousness; it's Franz, with a much more complex role, who really drives the show.
NYPD Blue's writers skillfully navigate both single-episode criminal cases (ranging from tense procedural sequences like Kelly slowly drawing a confession out of a man who killed a cab driver, to lighter cases like a stolen Oscar statuette) and storylines that stretch dizzily across the entire season.
These sustained plots are the real meat of the show: Kelly's hardline ethics are humanized by watching him clumsily come to a professional relationship with his ex-wife Laura (Sherry Stringfield) and work through an affair with Officer Janice Licalsi (Amy Brenneman), who is herself entangled with mobsters; while Sipowicz's near-death in the pilot has repercussions that crop up throughout the series, threatening his sobriety and his developing relationship with a lawyer (Sharon Lawrence).
Then there's his tense relationship with African American Lt. Fancy (James McDaniel), which affords some trenchant looks at racism inside and outside the department. The writing, directing, and acting only gets more subtle and complex as the show goes on, making this set a must for any fan.

Character to watch: Dennis Franz as Andy Sipowicz.
Journal your answers to the following questions after you watch the series.
How does this particular character's journey compare with yours?
Did the character develop certain characteristics during the movie that you have or that you would like to have? If so, what are those characteristics?
What obstacles did this character face? What was his or her biggest challenge?
What would you have done differently if you had been in the same position as the character?
Is this character the type of person you would be friends with? Why or why not?