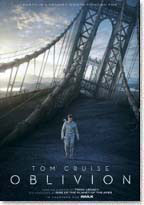 In Oblivion, one of the few remaining drone repairmen is assigned to Earth, its surface devastated after decades of war with the alien scavengers, discovers a crashed spacecraft with contents that bring into question everything he believed about the war, and may even put the fate of mankind in his hands.
Fast forward 60 years and now Jack Harper (Tom Cruise) is Tech 49, one of the last few humans stationed on the planet. He lives in a tower thousands of feet above the Earth where he and his communications officer and lover Victoria (Andrea Riseborough) are part of an operation to extract the planet's remaining resources, especially water.
Jack and Victoria maintain contact with civilization via a video link with their commander, Sally (Melissa Leo), and are due to join the rest of humanity on Titan in two weeks. Jack suffers from recurring dreams and flashbacks of New York before the invasion and an unknown woman. Assisting Jack in his work are weaponized 'drones', airborne machines that scour the landscape to destroy the remaining alien resistance.
As Jack nears the end of his mission, a spaceship crashes on the surface, brought down by a Scav homing beacon mounted on the top of the Empire State Building. The ship is carrying a number of sleeping capsules containing human beings in hibernation. Jack rescues a woman, Julia (Olga Kurylenko), from the wreckage, but is unable to stop a drone from destroying the other capsules. He immediately recognizes Julia as the woman in his flashbacks.
Shortly afterwards, Jack and Julia are captured by Scavs, who are revealed to be humans living in an underground stronghold. Their leader, Malcolm Beech (Morgan Freeman), who was a young soldier when the invasion occurred, claims there are no aliens on the planet and demands that Jack reprograms a recently captured drone to destroy 'the Tet', the space station where Sally is based. Jack refuses, and Beech allows Jack and Julia to leave, advising Jack that he will find answers to his questions in the supposedly dangerous 'high-radiation zones'.
Jack helps to repair and reprogram the stolen drone. Three drones pick up Jack's DNA trail and attack the Scav base. The resistance suffers many casualties, including Beech who is mortally wounded. The captured drone is destroyed, however its nuclear fuel cell is still intact. With no other choice, Jack volunteers to fly the nuclear device to the station himself, delivering the 'hibernating' Julia as an explanation for his presence.
Director: Joseph Kosinski
Year of Release: 2013

Character to watch: Tom Cruise as Jack Harper.
Journal your answers to the following questions after you watch the movie.
How does this particular character's journey compare with yours?
Did the character develop certain characteristics during the movie that you have or that you would like to have? If so, what are those characteristics?
What obstacles did this character face? What was his or her biggest challenge?
What would you have done differently if you had been in the same position as the character?
Is this character the type of person you would be friends with? Why or why not?