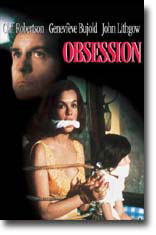 This is a long overlooked movie with a young John Lithgow and Genvieve Bujold and Cliff Robertson. The music is chilling and the scenes of Italy and New Orleans add to the suspense. In 1959, Michael Courtland (Robertson), a New Orleans real estate developer, has his life shattered when his wife Elizabeth (Bujold) and young daughter Amy are kidnapped.
The police strongly recommend that he provide the kidnappers with shredded blank paper instead of the demanded ransom, and he agrees to the plan. This leads to a bungled car chase in which both kidnappers and victims are killed in a spectacular explosion. Courtland blames himself for the deaths of his wife and daughter.
15 Years later. Courtland is morbidly obsessed with his dead wife, and regularly visits a monument he has had built in her memory. The monument is a replica of the church (Basilica di San Miniato al Monte) where he and Elizabeth had met many years before in Florence, Italy. His real estate partner Robert LaSalle (Lithgow) convinces Courtland to tag along on a business trip back to Florence.
While there, Courtland revisits the church, and suddenly comes face to face with a young woman named Sandra (Bujold again in a dual role) who looks exactly like his late wife. The already slightly unhinged Courtland begins to court the young woman, and subtly attempts to transform her into a perfect mirror image of his dead wife.
Courtland returns to New Orleans with Sandra so they can marry. On their wedding night, Sandra is kidnapped and a ransom note is left behind by her abductors. It is an exact replica of the kidnappers' message from fifteen years before.
This time, Courtland decides to deliver the demanded cash. He withdraws massive quantities of money from his accounts and business holdings, financially ruining him and forcing him to sign over his interest in the real estate business to LaSalle. In the process, he discovers that his entire ordeal, including the original kidnapping, had been engineered by LaSalle as a way to gain sole control of Courtland's company share holdings.
Director:  Brian De Palma
Year of Release: 1976

Character to watch: Cliff Robertson as Michael Courtland.
Journal your answers to the following questions after you watch the movie.
How does this particular character's journey compare with yours?
Did the character develop certain characteristics during the movie that you have or that you would like to have? If so, what are those characteristics?
What obstacles did this character face? What was his or her biggest challenge?
What would you have done differently if you had been in the same position as the character?
Is this character the type of person you would be friends with? Why or why not?