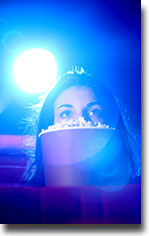 Obsessive–compulsive disorder (OCD) is an anxiety disorder in which people have unwanted and repeated thoughts, feelings, ideas, sensations (obsessions), or behaviors that make them feel driven to do something (compulsions). There have been a number of movies have had characters who portrayed OCD.
OCD is a potentially disabling illness that traps people in endless cycles of repetitive thoughts and behaviors. People with OCD are plagued by recurring and distressing thoughts, fears, or images (obsessions) they cannot control.
The anxiety (nervousness) produced by these thoughts leads to an urgent need to perform certain rituals or routines (compulsions). The compulsive rituals are performed in an attempt to prevent the obsessive thoughts or make them go away.
Symptoms of Obsessive–Compulsive Disorder (OCD)
OCD often centers on themes such as a fear of germs or the need to arrange objects in a specific manner. Symptoms usually begin gradually and vary throughout life.People may experience the following:
Behavioral: compulsive behavior, agitation, compulsive hoarding, hypervigilance, impulsivity, meaningless repetition of own words, repetitive movements, ritualistic behavior, social isolation, or persistent repetition of words or actions
Psychological: depression, fear, or repeatedly going over thoughts
Mood: anxiety, apprehension, guilt, or panic attack
Also common: food aversion or nightmares
Obsessive–Compulsive Disorder (OCD) in Film
The following films contain a character with OCD that depicts the condition in a realistic manner. Each film also provides a foundation for a good Cinema Therapy experience due to directorial style, character development, casting, and production quality. New releases will be added to this article so return if this topic is of interest to you.
Secrets of a Soul (1926)
Cat People (1942)
The Odd Couple (1968)
Frances (1982)
Educating Rita (1983)
Baby Boom (1987)
House Of Games (1987)
The End Of Innocence (1990)
Heaven And Earth (1990)
The Sheltering Sky (1990)
Pelican Brief (1993)
Three Colors Blue (1993)
Carrington (1995)
Copycat (1995)
As Good as It Gets (1997)
Holy Smoke (1999)
Joe The King (1999)
K-PAX (2001)
Matchstick Men (2003)
Dirty Filthy Love (2004)
The Aviator (2004)
Deuce Bigalow: European Gigolo (2005)
Phoebe in Wonderland (2008)
The Stepfather (2009)
Black Swan (2010)
Silver Linings Playbook (2012)
Click here to learn more about Obsessive–compulsive disorder (OCD)