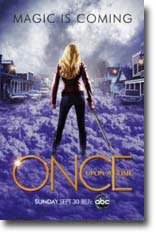 Once Upon A Time
is a series based on casting tantalizing spells. During the course of the first season shows, curses are broken, magic has arrived, and there's no telling what – or who – will be unleashed. A group of exiled fairytale characters must grapple with a flood of awakened memories as they come to grips with their new reality, living in the real world.
Old loyalties are tested, new heroes emerge, and vengeful villains wreak havoc, including a ruthless pirate Captain Hook and a relentlessly wicked Cora. Amidst the backdrop of previously unexplored lands and a newly magical Storybrooke, love and sacrifice set the stage for the ultimate battle between good and evil.For Emma Swan (Jennifer Morrison), life is anything but a happy ending. But when she's reunited with Henry (Jared Gilmore) – the son she gave up for adoption ten years ago – on the night of her 28th birthday, everything changes. The now 10-year-old Henry is in desperate need of Emma's help because he believes from reading a book of fairytales that she's the daughter of Snow White and Prince Charming – who sent her away from the Enchanted Forest to be protected from a curse that was enacted by the Evil Queen.
Emma initially refuses to believe a word of Henry's story but soon finds that his hometown of Storybrooke, Maine is more than it seems. Because it's in Storybrooke that all of the classic characters we know are frozen in time with no memories of their former selves – except for the Evil Queen, who is Storybrooke's mayor and Henry's adoptive mother Regina Mills (Lana Parrilla). Now, as the epic "Final Battle" for the future of both worlds approaches, Emma will have to accept her destiny and uncover the mystery behind a place where fairytales are to be believed.
In the words of Rumplestiltskin, where magic is concerned, only one thing is certain: it always comes at a price. From Storybrooke to Fairy Tale Land and beyond, Once Upon A Time lets viewers experience the mystery, romance, action, and adventure. The DVDs of the complete second season (which is far superior to the first season) with all 22 unforgettable episodes, plus exclusive bonus features, is contained in a 5-disc boxed set that captures the enchantment on an epic scale.

Character to watch: Ginnifer Goodwin as Mary Margaret Blanchard.
Journal your answers to the following questions after you watch the series.
How does this particular character's journey compare with yours?
Did the character develop certain characteristics during the movie that you have or that you would like to have? If so, what are those characteristics?
What obstacles did this character face? What was his or her biggest challenge?
What would you have done differently if you had been in the same position as the character?
Is this character the type of person you would be friends with? Why or why not?