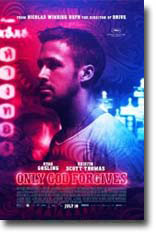 If you like bizarre films and don't mind a lot violence, you might like this film. The story is set in Bangkok. Ten years ago Julian (Ryan Golsing) killed a man and went on the run. Now he manages a Thai boxing club as a front for a drugs operation.
Respected in the criminal underworld, deep inside, Julian feels empty and he looks for love from local prostitutes. When his brother (Diego Klattenhoff) murders an underage prostitute beating her to death with his bare hands, the police call on retired cop Chang  (Vithaya Pansringarm) – the Angel of Vengeance.
Chang allows the father to kill his daughter's murderer, then restores order by chopping off the man's right hand with his personal sword. Julian's mother Jenna (Kristen Scott Thomas) – the head of a powerful criminal organization – arrives in Bangkok to collect her son's body. She dispatches Julian to find his killers and seek justice.
Only God Forgives has some of the most shockingly ornate film violence in recent memory and that very same aestheticized violence is what has been earning it shaky reviews from critics (currently 38% at Rotten Tomatoes at the time of this review) and audiences (Currently 6.2 on IMDB) alike. What it all comes down to is how much you can appreciate the art of filmmaking.
That may sound like the most pretentious critic statement of all time, but Only God Forgives is a film that has absorbed its influence from many cinematic greats. Throughout the movie I could not stop recalling Stanley Kubrick films like The Shining and Eyes Wide Shut.
Eventually the credits reveal that Kubrick's frequent crew member Larry Smith was the director of photography for Refn on this picture. Kubrick is not the only auteur whose influence can be seen in this film. Artists like David Lynch and Alejandro Jodorowsky (whom the film is dedicated to) can be recognized by the seasoned eye.
Director: Nicolas Winding Refn
Year of Release: 2013

Character to watch: Ryan Gosling as Julian.
Journal your answers to the following questions after you watch the movie.
How does this particular character's journey compare with yours?
Did the character develop certain characteristics during the movie that you have or that you would like to have? If so, what are those characteristics?
What obstacles did this character face? What was his or her biggest challenge?
What would you have done differently if you had been in the same position as the character?
Is this character the type of person you would be friends with? Why or why not?