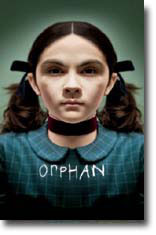 The tragic loss of their unborn child has devastated Kate (Vera Farmiga) and John (Peter Sarsgaard), taking a toll on both their marriage and Kate's fragile psyche as she is plagued by nightmares and haunted by demons from her past.
Struggling to regain some semblance of normalcy in their lives, the couple decides to adopt another child (Isabelle Fuhrman). At the local orphanage, both John and Kate find themselves strangely drawn to a sweet-looking 9-year-old Russian girl named Esther.
Almost as soon as they welcome Esther into their home, however, an alarming series of events begins to unfold, leading Kate to believe that there's something wrong with Esther–this seemingly angelic little girl is not what she appears to be. Concerned for the safety of her family, Kate tries to get John and others to see past Esther's sweet facade. But her warnings go unheeded until it may be too late.
Esther is harboring some deep-seeded issues of her own despite her angelic smile and sympathetic mannerisms. Upon arriving home with new stepdaughter in tow, a series of events unravel to make everyone question the background and sincerity of this little girl.
The couple's other two children, Daniel and Max, don't know what to make of Esther. Daniel (Jimmy Bennett) dislikes her immediately, Max (Aryana Engineer) forms an unhealthy bond with her new stepsister, Kate begins to seek out further information about Esther's background, & John just plays Devil's Advocate with all that occurs involving Esther. What's wrong with Esther? Is it true that behind the smile of this little angel beats the heart of a psycho killer?
Director: Jaume Collet-Serra
Year of Release: 2009

Character to watch: Vera Farmiga as Kate.
Journal your answers to the following questions after you watch the movie.
How does this particular character's journey compare with yours?
Did the character develop certain characteristics during the movie that you have or that you would like to have? If so, what are those characteristics?
What obstacles did this character face? What was his or her biggest challenge?
What would you have done differently if you had been in the same position as the character?
Is this character the type of person you would be friends with? Why or why not?