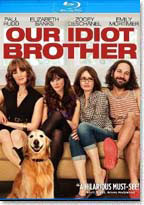 Ned Rochlin (Paul Rudd) is a biodynamic farmer living with his girlfriend, Janet  (Kathryn Hahn). One day, while Ned is selling at a local market, a police officer asks where he can buy cannabis.
Ned, skeptical at first, is moved by the officer's professed desperation due to having a stressful week. Feeling sympathetic, Ned gives him a rhubarb and a bag of marijuana for free. Insisting on paying, the officer coaxes Ned into charging him twenty dollars. Ned is then arrested on a charge of selling drugs.
Ned has three sisters. Miranda (Elizabeth Banks) is a journalist for Vanity Fair trying to get her first major article published. Though she has trouble finding a man to keep her interest, she and a neighbor, Jeremy have hidden feelings for each other, but would rather be good friends.
Natalie (Zooey Deschanel), also known as Nat, is a young, independent, bisexual hipster living with her girlfriend, Cindy (Rashida Jones), and 5 other roommates, suggesting a very communal type apartment. Her love for Cindy conflicts with her fear of commitment, which she hides even around Cindy. Liz (Emily Mortimer), the oldest, is married to Dylan (Steve Coogan), a documentary filmmaker. Their marriage is failing as Dylan shows no sexual or emotional interest in Liz.
They also have strict control over their son, River, which leaves him unhappy and unable to express himself. When Ned is released from prison early due to his model behavior, he returns home to Janet and his dog, Willie Nelson. He finds that she is living with Billy (T.J. Miller), and no longer wishes to continue their relationship. Disappointed, Ned desires to continue working at the farm, but Janet will not let him.
With nowhere else to go, he asks Billy for a ride into town – after saying goodbye to the dog (whom Janet refuses to let him keep). During the ride, Billy tells Ned that if he can scrape together $1,000 (2 months rent), Janet might let him stay in the goat barn for rent on the farm. Ned makes this his goal and heads to his mother's house for a family dinner.
Director: Jesse Peretz
Year of Release: 2011

Character to watch: Paul Rudd as Ned.
Journal your answers to the following questions after you watch the movie.
How does this particular character's journey compare with yours?
Did the character develop certain characteristics during the movie that you have or that you would like to have? If so, what are those characteristics?
What obstacles did this character face? What was his or her biggest challenge?
What would you have done differently if you had been in the same position as the character?
Is this character the type of person you would be friends with? Why or why not?