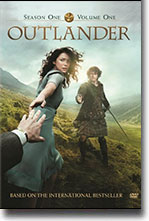 Outlander Follows the story of Claire Randall, a married combat nurse from 1945 who is mysteriously swept back in time to 1743, where she is immediately thrown into an unknown world where her life is threatened.
When she is forced to marry Jamie Fraser (Sam Heughan), a chivalrous and romantic young Scottish warrior, a passionate relationship is ignited that tears Claire's heart between two vastly different men in two irreconcilable lives.
Not realizing the place they're traveling to is a place for some pagan/druid activity, Claire accidentally time-travels through some standing stones after watching a druid ritual and ends up in 1700s Scotland. From there it turns into an adventure/historical fiction story when Claire runs into and is kidnapped of sorts by some Scottish Highlanders who don't know what to make of an Englishwoman running around in that area.
Claire is taken back to their clan's Scottish castle and not knowing how to escape and go back to her own time or what to do next, has to cope with living in an era where there's a lot of Scottish clan politics (and clashing with the English soldiers who occupy the Scottish territories).
At the same time she has to be very careful to hide the secret of who she really is and where she really came from, not easy to do because Claire is very much an independent, stubborn, forthright person and harder still when she is "hired" to be the healer of the Mackenzie clan (the clan of the castle/property she's taken to). It doesn't help that she attracts the attention of an English garrison commander – a brutal, sociopathic, sadistic English captain who is none other than her husband's ancestor.

Character to watch: Caitriona Balfe as  Claire Randall.
Journal your answers to the following questions after you watch the series.
How does this particular character's journey compare with yours?
Did the character develop certain characteristics during the movie that you have or that you would like to have? If so, what are those characteristics?
What obstacles did this character face? What was his or her biggest challenge?
What would you have done differently if you had been in the same position as the character?
Is this character the type of person you would be friends with? Why or why not?