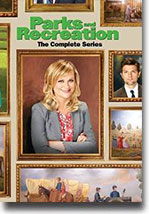 It is very easy to try to compare the series with The Office, given that it takes on the same mockumentary tone and was created by the creator and one of the writers of The Office. In some ways it did have a feel of The Office applied to community government, but once Parks and Rec found its footing it really stood out as being different creative, and every bit as good as The Office without being a blatant carbon copy.
The show had an ensemble cast of characters centered around Amy Poehler's Leslie Knope, the Deputy Director of the Pawnee Indiana Department of Parks and Recreation and her boss, Ron Swanson, played brilliantly by Nick Offerman. Many story lines centered around her desire to help everyone and his desire to have government function as little as possible.
Each did a great job playing their bleeding heart liberal, and small government libertarian roles, and some of the best moments on the show came when one of them would best the other. The rest of the cast was a true ensemble of relatively little known actors (until Rob Lowe arrived in season 3). Even with all the characters, and personalities the show did a good job of giving all the characters some depth and stories to grow within. Really the only main cast member whose character did not develop much was Paul Schneider who left after the second season.
The show also boasted a bunch of guest stars ranging from cameos by Washington Politicians to recurring character actors. Probably the best was Megan Mullally, Nick Offerman's real life wife, who played is ex wife Tammy 2, who was always trying to corrupt Ron. Her appearances were really the only time Nick Offerman was able to drop the gruff no-nonsense persona of Ron Swanson (aside from when he got to giggle at Leslie's expense) which were really the highlights of any of the seasons.
The addition of Rob Lowe (playing the ultra chipper city manager who incorrectly uses the word literally in almost every sentence) and Adam Scott as Ben Wyatt, really did a lot to round out the cast and gave the show the feel it would have almost to the end.

Character to watch: Amy Poehler as Leslie Knope.
Journal your answers to the following questions after you watch the series.
How does this particular character's journey compare with yours?
Did the character develop certain characteristics during the movie that you have or that you would like to have? If so, what are those characteristics?
What obstacles did this character face? What was his or her biggest challenge?
What would you have done differently if you had been in the same position as the character?
Is this character the type of person you would be friends with? Why or why not?