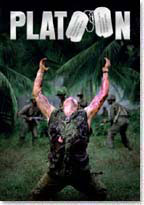 In 1967, Chris Taylor (Charlie Sheen) has dropped out of college and volunteered for combat duty in Vietnam. Assigned to Bravo Company, near the Cambodian border, he is worn down by the exhausting conditions and his enthusiasm for the war wanes. One night his unit is set upon by a group of North Vietnamese Army (NVA) soldiers, who retreat after a brief gunfight.
New recruit Gardner is killed while another soldier, Tex, is maimed by friendly fire from a grenade thrown by Sergeant "Red" O'Neill (John C. McGinley), with Taylor being mistakenly reprimanded by the ruthless Staff Sergeant Bob Barnes (Tom Berenger). Taylor eventually gains acceptance from a tight-knit group in his unit who socialize and use drugs in a cabin clubhouse. He finds a mentor in Sergeant Elias (Willem Dafoe) as well as the elder King (Keith David).
During one patrol, a soldier named Manny is found mutilated and tied to a post while two others, Sal and Sandy, are killed by a booby-trap. As tension mounts, the platoon soon reaches a nearby village where a supply cache is discovered. Taylor finds a disabled young man and an elderly woman hiding in a spider hole. Taylor snaps, screaming and threatening the man but is shocked to see Bunny (Kevin Dillon) then bludgeon him to death. Barnes interrogates the village chief to determine if they have been aiding the enemy.
Despite the villagers' adamant denials, Barnes shoots and kills the chief's wife due to her persistent arguing. Barnes takes the child of the woman at gunpoint, threatening to shoot her if the villagers do not reveal information. Elias arrives, scolding Barnes and engaging in a scuffle with him over the incident. Platoon commander Lieutenant Wolfe (Mark Moses) orders the men to leave with the villagers and burn the village.
Director: Oliver Stone
Year of Release: 1986

Character to watch: Charlie Sheen as Chris Taylor.
Journal your answers to the following questions after you watch the movie.
How does this particular character's journey compare with yours?
Did the character develop certain characteristics during the movie that you have or that you would like to have? If so, what are those characteristics?
What obstacles did this character face? What was his or her biggest challenge?
What would you have done differently if you had been in the same position as the character?
Is this character the type of person you would be friends with? Why or why not?