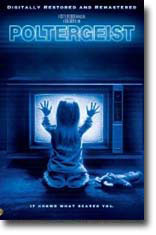 Director Tobe Hooper teamed up with family-oriented producer Steven Spielberg to make Poltergeist. The film is about a haunted suburban tract home in a development very much like the Arizona one in which Spielberg was raised. Because Poltergeist came out the same summer as Spielberg's E.T., it was tempting to see both movies as representing Spielberg's ambivalent feelings about childhood in suburbia.
One was a fantasy, the other a nightmare. Spielberg also cowrote the screenplay for Poltergeist, which taps into primal, childlike fears of monsters under the bed, monsters in the closet, sinister clown faces, and all manner of things that go bump in the night.
At first, some of the odd happenings in the house are kind of funny and amusing, but they grow gradually creepier until the film climaxes in a terrifying special-effects extravaganza when 5-year-old Carole Anne (Heather O'Rourke) is kidnapped by the spooks and held hostage in another dimension. Poltergeist is one of the smartest and most entertaining horror pictures of its time.
In the suburban housing development of Cuesta Verde, California, the homes are modern and comfortable. Steven Freeling (Craig T. Nelson) is a successful real estate agent who works for a firm headed up by Teague (James Karen), a developer. Steven lives in one of the Cuesta Verde homes with his wife, Diane (JoBeth Williams), and their three children: teenage Dana (Dominique Dunne) and preteen youngsters Robbie (Oliver Robbins) and Carol Anne.
Strange events begin to occur when Carol Anne begins sleepwalking and carries on a seemingly one-sided conversation with a TV set that's turned on but has no signal. Soon thereafter her pet bird dies, and the family conducts a small burial service. Later that night, Carol Anne awakens again and talks to the television, while a spectral manifestation erupts from the television screen and enters the walls, causing an earthquake that only the Freelings feel.
As the family wakes up, Carol Anne announces, "They're here." This was the movie that not only immortalized this line, but tapped into the spookiness of everyday things — the closet, the underside of a bed, a staticky TV or a closed door. Some of the special effects are a bit dated, but it gives you the feeling of being a young child who genuinely believed that a hellmouth exists in your closet.
Director:  Tobe Hooper
Year of Release: 1982

Character to watch: Heather O'Rourke as Carol Anne Freeling.
Journal your answers to the following questions after you watch the movie.
How does this particular character's journey compare with yours?
Did the character develop certain characteristics during the movie that you have or that you would like to have? If so, what are those characteristics?
What obstacles did this character face? What was his or her biggest challenge?
What would you have done differently if you had been in the same position as the character?
Is this character the type of person you would be friends with? Why or why not?