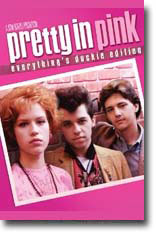 Ringwald plays Andie Walsh, a not-so-popular high school girl on the budget side of the tracks, living with her warm and loving father (Harry Dean Stanton). She usually hangs out with her friends Iona (Annie Potts) or Duckie (Jon Cryer). Duckie has always had a crush on her
When a wealthy but well-meaning boy (Andrew McCarthy) asks her out, her perspective is overturned and Cryer's character is threatened. Andie comes from a poor home, is a bit of an outcast at school and works at a record store.
Andietakes care of her dad, who is still a bit lost after being left by Andie's Mom years ago. Duckie is her best friend who has secretly been in love with her since childhood. Enter Blaine, A popular rich kid who is interested in Andie despite the social pressure from his friends.
After a couple days of flirting Blaine eventually asks Andie out, much to Duckie's disappointment. Andie is initially very excited but feels out of place when Blaine takes her to a party and his friends are less then accepting. They leave and go to one of Andie's favorite hangouts, A bar with live music, but the Blaine gets a less the welcome reception from Duckie.
Despite the social world differences the two want to make it work and Blaine asks Andie to Prom. Blaine's douche bag friend Steff get's to him though and Blaine backs out of the prom date. Andie eventually decides to go anyways, is meet there by Duckie, and they reconcile their friendship.
Blaine realizes he was wrong and apologies to Andie, Duckie relents and tells her to go after him, and Andie and Blaine make up and out in the parking lot and everything is golden in 80's teen romance land.
Director:  Howard Deutch
Year of Release: 1986

Character to watch: Molly Ringwald as Andie Walsh.
Journal your answers to the following questions after you watch the movie.
How does this particular character's journey compare with yours?
Did the character develop certain characteristics during the movie that you have or that you would like to have? If so, what are those characteristics?
What obstacles did this character face? What was his or her biggest challenge?
What would you have done differently if you had been in the same position as the character?
Is this character the type of person you would be friends with? Why or why not?