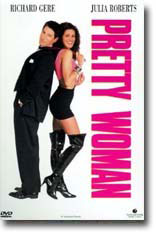 Like a pumpkin that transforms into a carriage, some very shrewd casting and the charisma of Julia Roberts, in particular, morphed this story of a Hollywood whore into a Disneyfied Cinderella story. This is the movie that made Roberts a star; the charm of her personality helping tremendously to carry viewers over the rough spots in the script which was originally a cynical tale about prostitution called 3000–after the amount of money Richard Gere's character pays the prostitute to stay with him for the week.
Gere is the silver-haired Wall Street knight who sweeps streetwalker Roberts into a fantasy world of room service at the Regent Beverly Wilshire Hotel and fashion boutique shopping on Rodeo Drive. The supporting cast is also appealing, including Laura San Giacomo as Roberts's hooker pal, Hector Elizondo as the hotel manager, Jason Alexander, Ralph Bellamy, and Hank Azaria. Now, is this something you want your sons and daughters to see? That's entirely up to you.
Edward is a rich, ruthless businessman who specializes in taking over companies and then selling them off piece by piece. He travels to Los Angeles for a business trip and decides to hire a prostitute. They take a liking to each other and he offers her money if she'll stay with him for an entire week while he makes the "rich and famous" scene (since it doesn't do for a man of his stature to be alone at society parties and polo matches). Romantic comedy (and complications) ensue.
Perhaps the biggest challenge to watching this movie is suspending the negative connotations about prostitution, particularly what is does to women. There's no doubt that this movie minimizes the risks and maximizes the romance, what little there is surrounding this profession.
Director: Garry Marshall
Year of Release: 1990

Character to watch: Richard Gere as Edward Lewis.
Journal your answers to the following questions after you watch the movie.
How does this particular character's journey compare with yours?
Did the character develop certain characteristics during the movie that you have or that you would like to have? If so, what are those characteristics?
What obstacles did this character face? What was his or her biggest challenge?
What would you have done differently if you had been in the same position as the character?
Is this character the type of person you would be friends with? Why or why not?