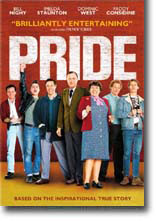 Pride is inspired by an extraordinary true story. It's the summer of 1984, Margaret Thatcher is in power and the National Union of Mineworkers is on strike, prompting a London-based group of gay and lesbian activists to raise money to support the strikers' families.
Initially rebuffed by the Union, the group identifies a tiny mining village in Wales and sets off to make their donation in person. As the strike drags on, the two groups discover that standing together makes for the strongest union of all.
The film puts the struggle for gay rights and the struggle of miners for fair working conditions on equal footing, illustrating that they're both about civil rights. At first the miners are suspicious of their benefactors' motives, but slowly come to see them as fellow human beings rather than outsiders with questionable lifestyles. It's a movie about seeing beyond labels, recognizing kinship in similar fights against a repressive establishment, and summoning the courage to organize.
There are some great performances in the film, none more so from the two leads – Ben Schnetzer as the out and proud leader of the group Mark who forms the LGSM group (Lesbians and Gays Support the Miners) and George MacKay as Joe (or Bromley as he's affectionately known by his group) who still lives at home and in his closet with his parents. Both of these characters take dramatic and shocking twists and turns by the end of the film. There's lots of humour to be found in the characters played by Bill Nighy, Dominic West and Imelda Staunton, and they deliver some great one liners.
Heartwarming and heartbreaking in equal measure, Pride is one of those films that the British makes so well. Take a moment in recent history where people are suffering and add a pinch of humor and you have a film that ranks easily alongside the likes of Full Monty, East is East, Brassed Off, Billy Elliott, etc.
Director: Matthew Warchus
Year of Release: 2014

Character to watch: George MacKay as Joe.
Journal your answers to the following questions after you watch the movie.
How does this particular character's journey compare with yours?
Did the character develop certain characteristics during the movie that you have or that you would like to have? If so, what are those characteristics?
What obstacles did this character face? What was his or her biggest challenge?
What would you have done differently if you had been in the same position as the character?
Is this character the type of person you would be friends with? Why or why not?