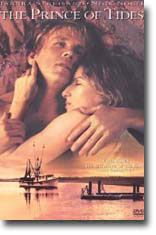 Nick Nolte plays Tom Wingo, a football coach who is estranged from his wife (Blythe Danner) and who enters into an affair with the psychiatrist Susan Lowenstein (Barbara Streisand) of his suicidal sister (Melinda Dillon).
As a unemployed-football-coach, Wingo is unhappy with his life. His wife doesn't understand him and he also doesn't get along with his dominant mother. When his sister, a New York writer, tries to commit suicide, Wingo, comes to her aid. Lowenstein consults him desperate to unlock the door to her patient's self-destructive pattern, relies on Tom to be his sister's memory.
What Lowenstein doesn't realize is that the last thing Tom wants to do is remember. Haunted by a painful childhood and a domineering mother, Tom discovers the only thing worse than not remembering is not telling. Patiently and cautiously she uncovers the terrible secret hidden in Tom and Savannah's childhood. On the other side she's unhappy too and so both help each other to find their way back to life.
This is the perfect date movie, a drama so engrossing, so well acted and so lavishly produced that it doesn't lose your attention throughout its long 132 minute run. Adapted from a best-selling novel of the same title by Pat Conroy, director and star Streisand has the support of the best ensemble cast one can imagine in delivering a superior movie. everyone included does a stellar job, from Nolte as the protagonist and figure lovingly referred to in the title.
Director:  Barbra Streisand
Year of Release: 1991

Character to watch: Nick Nolte as Tom Wingo.
Journal your answers to the following questions after you watch the movie.
How does this particular character's journey compare with yours?
Did the character develop certain characteristics during the movie that you have or that you would like to have? If so, what are those characteristics?
What obstacles did this character face? What was his or her biggest challenge?
What would you have done differently if you had been in the same position as the character?
Is this character the type of person you would be friends with? Why or why not?