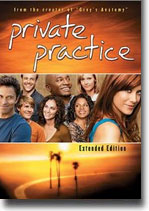 Addison Montgomery (Kate Walsh) leaves behind McDreamy, McSteamy, and McSeattle to join California's Oceanside Wellness Center, a private practice that was founded by two best friends from med school. But if she's expecting a drama-free existence, she's in the wrong place.
Naomi (Audra McDonald) and Sam (Taye Diggs) Bennett are the perfect couple who aren't together anymore.Pediatrician Cooper Freedman (Paul Adelstein) is a horny Peter Pan looking for love on the Internet. Violet Turner (Amy Brenneman) is a psychiatrist who can dish out the advice, but can't get over her own breakup to a man who has clearly moved on.
And then there's Pete Wilder (Tim Daly), an alternative-medicine practitioner so good-looking and charming that Addison can't stop crushing on him, even though she dismisses his brand of practice as New Age-y. Created by Grey's Anatomy's Shonda Rhimes to capitalize on Walsh's popularity, Private Practice has some screwy moments that don't fall in line with Addison's cosmopolitan character.
Are we really to believe that Addison is so messed up that she really believes the elevator is talking to her? That conceit would've worked on Ally McBeal's titular heroine, but on Addison Montgomery? We don't think so. The show, which was affected by the writer's strike of 2007, lacks cohesiveness in the truncated 10 episodes on this DVD box set. But still, the series shows promise.
Though some of the plot devises are melodramatic at best (Sam has to deliver the baby of a woman who had been robbing the store just moments before), viewers end up rooting for the quirky characters to get their personal lives in order. Though we're supposed to be longing for Addison and Pete to couple up, and for the Bennetts to realize that their divorce was a mistake, it's really Cooper and Violet who have all the makings to be the show's most intriguing couple.
The debut season showed some interesting plot devices: two couples whose babies were mistakenly exchanged at birth; a senior citizen with unexplainable bruising on his body; and one of the female characters dealing with her own infertility issues. But the thrust of the show is how the doctors work and play together. Talking to one of her patients, Addison says, "Everyone screws up once in awhile." That can also be the motto for the Oceanside Wellness Center.

Character to watch: Kate Walsh as Addison Montgomery.
Journal your answers to the following questions after you watch the series.
How does this particular character's journey compare with yours?
Did the character develop certain characteristics during the movie that you have or that you would like to have? If so, what are those characteristics?
What obstacles did this character face? What was his or her biggest challenge?
What would you have done differently if you had been in the same position as the character?
Is this character the type of person you would be friends with? Why or why not?