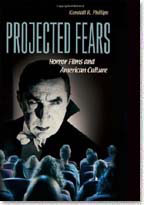 Movie audiences seem drawn, almost compelled, toward tales of the horrific and the repulsive. Partly because horror continues to evolve radically—every time the genre is deemed dead, it seems to come up with another twist—it has been one of the most often-dissected genres.
Here, author Kendall Phillips selects ten of the most popular and influential horror films—including Dracula, Night of the Living Dead, Halloween, The Silence of the Lambs, and Scream, each of which has become a film landmark and spawned countless imitators, and all having implications that transcend their cinematic influence and achievement.
By tracing the production history, contemporary audience response, and lasting cultural influence of each picture, Phillips offers a unique new approach to thinking about the popular attraction to horror films, and the ways in which they reflect both cultural and individual fears. Though stylistically and thematically very different, all of these movies have scared millions of eager moviegoers. This book tries to figure out why.
About the Author: Kendall Phillips is professor of communication and rhetorical studies at Syracuse University where he teaches courses in rhetorical theory, film studies and public memory. His work focuses on theories of democratic culture, the rhetoric of film, and aspects of public remembrance.
He has published several books including, Dark Directions: Romero, Craven, Carpenter and the Modern Horror Film, Projected Fears: Horror Films and American Culture, Framing Public Memory, and Controversial Cinema: The Films that Outraged America and his essays have appeared in such journals as Communication Monographs, Literature/Film Quarterly, and Philosophy & Rhetoric. He was born and raised in Texas and currently lives in Syracuse, New York with his wife and their soft-coated wheaten terrier.
Author: Kendall R. Phillips
Year of Release: 2005