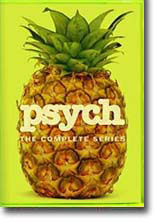 During his childhood, Shawn Spencer (James Roday) developed a remarkable talent for noticing the tiniest of details under the guidance of his policeman father, Henry (Corbin Bernsen). However, upon growing up he found it difficult to get a job, and spends most of his time using his skill to give the police anonymous tips. However, the tips are so good that some cops become suspicious that he is involved with the crimes himself.
To clear his name Shawn finally settles on a career: he pretends to be a psychic. No one really believes him, but he continues to be so helpful to the police that they keep calling him in on cases they can't solve. Shawn soon brings his childhood friend Gus (Dulé Hill) into his scheme, and between their bantering they manage to solve every case they're presented with.
To save himself, Shawn pretends to be a psychic — and the gimmick works so well that he decides to do it professionally. Along with his reluctant pal Gus (Dulé Hill), Shawn is regularly hired by the police chief, despite the skepticism of cranky Detective Lassiter (Timothy Omundson). With the assistance of Lassiter's mellower partner Juliet O'Hara (Maggie Lawson), they take on a bizarre array of cases.
Most shows aren't really able to strike a balance between comedy and mystery, but Psych does. It's such a rarity that a TV series is accessible to everyone in the family. It's relatively clean, funny, and stays interesting throughout its entire run.

Character to watch: James Roday as Shawn Spencer.
Journal your answers to the following questions after you watch the series.
How does this particular character's journey compare with yours?
Did the character develop certain characteristics during the movie that you have or that you would like to have? If so, what are those characteristics?
What obstacles did this character face? What was his or her biggest challenge?
What would you have done differently if you had been in the same position as the character?
Is this character the type of person you would be friends with? Why or why not?